Category:Events: Difference between revisions
Jump to navigation
Jump to search
No edit summary

 

(164 intermediate revisions by 24 users not shown)
Line 17:
Line 17:

<onlyinclude>

<onlyinclude>






''A subscribable calendar of events can be found '''[https://calendar.google.com/calendar/u/0/embed?src=v4694n2t0jmpg2i9i2fck7uiuq2oo8f7@import.calendar.google.com&ctz=America/Los_Angeles here]'''. ''

''calendar[https://calendar.google.com/calendar/u/0/embed?src=v4694n2t0jmpg2i9i2fck7uiuq2oo8f7@import.calendar.google.com&ctz=America/Los_Angeles here]

   

   

'''Key:'''  

'''Key:'''  

{{Template:Recurring}}: Weekly {{Template:RecurringNumbered|1st}} {{Template:RecurringNumbered|2nd}} {{Template:RecurringNumbered|3rd}} {{Template:RecurringNumbered|4th}}: Certain weeks  

{{Template:Recurring}}: Weekly

{{Template:RecurringException|-2nd}}: Except certain weeks {{Template:Streaming}}: [[Streaming]]

{{Template:RecurringNumbered|1st}} {{Template:RecurringNumbered|2nd}} {{Template:RecurringNumbered|3rd}} {{Template:RecurringNumbered|4th}}: Certain weeks

{{Template:RecurringException|-2nd}}: Except certain weeks

{{Template:Streaming}}: [[Streaming]]

 






=== [[:Category:Upcoming_Events|Upcoming Events]] ===

=== [[:Category:Upcoming_Events|Upcoming Events]] ===

<!-- side images -->

<!-- side images -->

[[File:SundayStreetsValencia2022.png|right|thumb|250px|[[Sunday Streets]] July 10 Noisebridge presents a Hackerfaire featuring [[BACH]] hackerspaces around the Bay at 18th & Valencia.]][[File:5mofposter.jpg|thumb|250px|right|'''[[Five Minutes of Fame]]''': 10 5 minute talks every third Thursday! Spread this poster around.]]

[[File:5mofposter.jpg|thumb|250px|right|'''[[Five Minutes of Fame]]''': 10 5 minute talks every third Thursday! Spread this poster around.]]

[[Image:NoisebridgeMeetingPoster.fw.png|250px|thumb|right|Introduce yourself and meet the community at meetings|link=meetings]]

[[Image:NoisebridgeMeetingPoster.fw.png|250px|thumb|right|Introduce yourself and meet the community at meetings|link=meetings]]

{| class="wikitable sortable" style="margin-left:0px; text-align:left;"

{| class="wikitable sortable" style="margin-left:0px; text-align:left;"

|-

| || August 11th 5-7PM || '''[[Open Source Robotics Meetup]] || Meetup for development of robots & OpenCV

|-

| || August 13-14 1pm-5:00pm || '''[[VALENCE OXYTOCIN Workshop]]''' || Series of Workshops on laser cutting, LED programming, projection mapping and so on.

|-

| || August 21st 11AM - 4PM || '''[[Sunday Streets]]''' || In SoMa neighborhood. Noisebridge will have a booth! See page for more info

|}

|}





Line 40:
Line 39:

! Tags !! Time !! Title !! Description

! Tags !! Time !! Title !! Description

|-

|-

| {{Template:Recurring}} || 5 pm (inactive, help wanted!) || '''[[Circuit_Hacking_Monday|Circuit Hacking Monday]]''' || learn electronics, and how to solder

| {{Template:Recurring}} || , !

|| '''[[Circuit_Hacking_Monday|Circuit Hacking Monday]]''' || electronics, andhow to solder

|}

|}






=== ''Super'' Tuesdays! ===

=== Tuesdays! ===

{| class="wikitable sortable" style="margin-left:0px; text-align:left;"

{| class="wikitable sortable" style="margin-left:0px; text-align:left;"

|-

|-

| {{Template:Recurring}} {{Template:Streaming}} || 7:00pm || '''[[Meetings|Noisebridge Weekly Meeting]]''' || (<b>In person & [https://www.noisebridge.net/wiki/Jitsi online via Jitsi]</b>) - Introduce new people and [[events]], [[joining]], announcements, discussions, and [[consensus]]. ''Come express what you think about what's going on with your space!''

| {{Template:Recurring}} {{Template:Streaming}} || 7:00pm || '''[[Meetings|Noisebridge Weekly Meeting]]''' || (<b>In person & [https://www.noisebridge.net/wiki/Jitsi online via Jitsi]</b>) - Introduce new people and [[events]], [[joining]], announcements, discussions, and [[consensus]]. ''Come express what you think about what's going on with your space!''

|-

|-

| {{Template:Recurring}} || 7:00pm || '''[[San Francisco Writers Workshop]]''' || Upstairs hack lounge (or downstairs in front if access needs require). Free drop-in writers workshop, get feedback and critique!

| {{Template:Recurring}} || 7:00pm || '''[[San Francisco Writers Workshop]]''' || Free drop-in writers workshop, get feedback and critique!

|}

|}





Line 54:
Line 68:





{| class="wikitable sortable" style="margin-left:0px; text-align:left;"

{| class="wikitable sortable" style="margin-left:0px; text-align:left;"

|-

|-

| {{Template:Recurring}} {{Template:Streaming}} || 8:00 - 10:00 pm || '''[[Machine Learning]] AI and RL Meetup || at Noisebridge until 10!'''

| {{Template:}} || 8:|| '''[[]] and Meetup'''

 

|-

|-

| {{Template:Recurring}} {{Template:Streaming}} || 6:00 - 8:00 pm || '''[[Gamebridge]]''' || '''game development mentoring & coworking meetup''' for gamedev beginners and indies alike.

| {{Template:

 

}} {{Template:}}|| 6:- :|| '''[[]]''' || meetup.

|}

|}






=== Thursdays ===

=== Thursdays ===

{| class="wikitable sortable" style="margin-left:0px; text-align:left;"

{| class="wikitable sortable" style="margin-left:0px; text-align:left;"

|-

|-

| {{Template:Recurring}} {{Template:Streaming}} || 4:00pm-9:00pm || '''[[to-do-ocracy|To-do-ocracy Thursdays]]''' || where we work together on our [https://github.com/noisebridge/buildout-capp/projects/1 task list].  

| {{Template:Recurring}} {{Template:Streaming}} || :00pm - :00pm || '''[[]]''' || .

|-

|-

| {{Template:Recurring}} {{Template:Streaming}} || 7:00pm-8:00pm || '''[[MetaGuild|MetaGuild Meeting]]''' || Discussion on the meta-organization of Noisebridge and the Guilds system (hybrid in-person w/ virtual attendance in Discord)

| {{Template:Recurring}} {{Template:Streaming}} || :00pm || '''[[]] ''' || -

|-

|-

| {{Template:Recurring}} {{Template:Streaming}} || 6:00pm ||  '''[[NeurotechX]] SF hacknights''' || for mind-machine interfacing with EEGs.

| {{Template:}} || 6:00pm ||  '''[[]]''' || for .

 

|-

|-

| {{Template:RecurringNumbered|3rd}} {{Template:Streaming}} || 8:00pm-9:00pm || '''[[Five Minutes of Fame]]''' a.k.a. 5MoF || Ten 5min talks in an hour, on any topic on the 3rd Thursday of the month.

| {{Template:RecurringNumbered|3rd}} {{Template:Streaming}} || 8:00pm - 9:00pm || '''[[Five Minutes of Fame]]''' a.k.a. 5MoF || Ten 5min talks in an hour, on any topic

|-

|-

| {{Template:Recurring}} || 7:00pm-8:30pm || '''[[BookBridge]]!''' || Informal book club, no assigned reading. Talk about books. [https://www.meetup.com/noisebridge/events/285092189/ Meetup.]

| {{Template:}} || :00pm - :30pm || '''[[]]''' || : /

 

|-

|-

| {{Template:RecurringNumbered|4th}} {{Template:Streaming}} || 8:00pm-10:30pm || '''[[Resident Electronic Music]]''' || Resident Electronic Music Monthly. An electronic music open mic on the 4th Thursday of the month..

| {{Template:RecurringNumbered|4th}} || :00pm || '''[[]]''' || .on ..

 

|-

|-

| {{Template:Recurring}} || you-o-clock || '''TRASH NIGHT''' || Please take out all three large [[trash]] bins!! They are behind the front stairs.

| {{Template:Recurring}} || you-o-clock || '''TRASH NIGHT''' || Please take out all three large [[trash]] bins!! They are the .

<!-- TODO: highlight this (and other run-the-space tasks) -->

<!-- TODO: highlight this (and other run-the-space tasks) -->

|}

|}

Line 82:
Line 112:

{| class="wikitable sortable" style="margin-left:0px; text-align:left;"

{| class="wikitable sortable" style="margin-left:0px; text-align:left;"

|-

|-

| {{Template:Recurring}} ||12:00pm - 6:00pm || [[FreeCodeCamp]] || with Paul_H as host

| || || []

|-

|-

| {{Template:Recurring}} || 7:00pm - 9:00pm || [[Chess]] Meetup!  

| {{Template:Recurring}}

|

| :00pm - :00pm || !

|-

|-

| {{Template:Recurring}} || 6:00pm - 7:00pm || '''[[Sewing Project Night]]''' || Sewing project meetup with free starter fabrics where you can learn how to use our sewing station.

|}

|}





Line 92:
Line 123:

{| class="wikitable sortable" style="margin-left:0px; text-align:left;"

{| class="wikitable sortable" style="margin-left:0px; text-align:left;"

|-

|-

| {{Template:Recurring}} || 12:30 pm - 2:30 pm || Let'sMakeStuff: Engineers+Designers+Artist+Make || ([https://www.meetup.com/LetsMakeStuff-Engineers-Designers-Artists-Makers-Creatives/ Meetup Page])

| {{Template:Recurring}} || :- :|| || . -----

|-

|-

| {{Template:Recurring}} || 2:00 pm - 5:00 pm || Hack on Noisebridge! ||

| {{Template:Recurring}} ||2:- :||

 

||

|}

|}






=== Sundays ===

=== Sundays ===

{| class="wikitable sortable" style="margin-left:0px; text-align:left;"

{| class="wikitable sortable" style="margin-left:0px; text-align:left;"

|-

|-

| {{Template:RecurringNumbered|2nd}} || 2:00pm - 3:00pm || '''Fabrication 101 2nd [[Shop]] Sundays''' || class on safety and basic techniques

| {{Template:RecurringNumbered|2nd}} || 2:00pm - 3:00pm || '''Fabrication 101 2nd [[Shop]] Sundays''' || class on safety and basic techniques

|-

|-

| {{Template:RecurringNumbered|3rd}} || 1:00pm - 5:00pm || '''[[TOOOL-SF]]''' || [[locksport]] meetup of The SF Chapter of the Open Organisation Of Lockpickers.

|-:

|-

| {{Template:RecurringNumbered|2nd}} {{Template:Streaming}} || 2:00pm - 4:00pm || [[Bay Area Hackers' Association|BAHA: Bay Area Hackers' Association]] || Security Hacking Meeting 2nd Sundays at [[272]] and via [[Jitsi]]

| {{Template:RecurringNumbered|2nd}} {{Template:Streaming}} || 2:00pm - 4:00pm || [[Bay Area Hackers' Association|BAHA: Bay Area Hackers' Association]] || Security Hacking Meeting 2nd Sundays at [[272]] and via [[Jitsi]]

|}

|}






=== Other [[BACH|Bay Area Consortium of Hackerspaces]] Events ===

=== Other [[BACH|Bay Area Consortium of Hackerspaces]] Events ===

* [[Circuit Launch]]: 3rd Friday 5:30pm-8:30pm Robot Build Night & Fixit Clinic

* [

* [[SudoRoom]]: Hardware Hacking Tuesdays 6:30pm

[]]: -

* [[SudoRoom]]: Hardware Hacking Tuesdays

 

 

 

</div>

</div>

</onlyinclude>

</onlyinclude>

'''CONTACT:''' If you'd like to contact somebody at Noisebridge regarding these Events or even the Noisebridge Wiki itself, then please send an email message to one of the Board members listed in the [[Contacts]] list, e.g., <secretary@noisebridge.net> or <treasurer@noisebridge.net>

'''CONTACT:''' If you'd like to contact somebody at Noisebridge regarding these Events or even the Noisebridge Wiki itself, then please send an email message to one of the Board members listed in the [[Contacts]] list, e.g., <secretary@noisebridge.net> or <treasurer@noisebridge.net>

= Recent Events =

==July==

==June==

* '''[[San Friend Disco]] July 29:''' A musical and visual 7-10 pm afterparty following a Delores Park picnic.

* '''June 21, 3:30pm - 4:30pm''' 80 engineering students from Barcelona are coming for a tour! (Lizzard to host)<br>

==May==

==April==

* '''[[NB14]] Kickoff: Friday, April 1''': Noisebridge's 14th anniversary party, '''[[HackComedy]]''' & '''[[Stupid Hackathon 8]]''' kickoff.

* '''[[NB14]] Hackday: Saturday, April 2''': '''[[Stupid Hackathon 8]]''' jamming day & workshops.

* '''[[NB14]] Finale: Sunday, April 3''': '''[[Stupid Hackathon 8]]''' Demo Night & '''[[NB14]] Finale & Music Show'''.

==March==

* '''[[NeurotechX GDC 2022]]: March 24''' Noisebridge is hosting a Neurotech in gaming party for GDC. Host: [[User:Pyconaut]]

* '''[[MNT Reform]]: Friday, March 4, 6pm-8pm'''  Hosted by TJ Melanson with Lukas F. Hartmann coming all the way from Berlin, Germany via Jitsi.

* '''[[Oscilator_March_4|The Beat Frequency: Oscilator Vol. 1]]: March 4 8pm-11pm''' Noisebridge's electronic musicians will perform.






= Orphaned Events =

= Orphaned Events =

These events appear to be dormant or extinct.

These events appear to be dormant or extinct.

*{{Template:Recurring}} '''7:00 pm to 8:30 pm [https://github.com/maniqin/noisebridge_sql Noisebridge SQL Class]''' - Wondering why SQL is so popular and used even though it has been around for decades? Come find out @ Noisebridge SQL class!  This class is an intro / intermediate level class on SQL—the backbone language to any relational database around. ([[Church]] classroom).

*{{Template:Recurring}} '''7:00 pm to 8:30 pm [https://github.com/maniqin/noisebridge_sql Noisebridge SQL Class]''' - Wondering why SQL is so popular and used even though it has been around for decades? Come find out @ Noisebridge SQL class!  This class is an intro / intermediate level class on SQL—the backbone language to any relational database around. ([[Church]] classroom).

* SAT 10:15 - 12:10 [[Juggling with Judy!]] Note: next class is scheduled for Saturday June 29th.  Attention juggling fans!  Judy will be at the 2013 World Juggling Day celebration Saturday June 15th at Ripley's Believe It Or Not Odditorium in San Francisco Fisherman's Warf - free event begins at 1.  Come check it out!   

* SAT 10:15 - 12:10 [[Juggling with Judy!]] Note: next class is scheduled for Saturday June 29th.  Attention juggling fans!  Judy will be at the 2013 World Juggling Day celebration Saturday June 15th at Ripley's Believe It Or Not Odditorium in San Francisco Fisherman's Warf - free event begins at 1.  Come check it out!   

Line 140:
Line 167:

* 14:00 - 16:00 Android Developer Support Group - Meet up with other app developers in the library for a lightly structured knowledge-share.

* 14:00 - 16:00 Android Developer Support Group - Meet up with other app developers in the library for a lightly structured knowledge-share.

* {{Template:Recurring}} '''5:00 pm to 7:30 pm [[Songbridge|Songbridge Music Making Tuesdays]]''' - Beginner-friendly music making and mentoring meetup with Ableton/GarageBand/Logic tutorials for beginners and peer collabs. ([[Noise Square Table]]).

* {{Template:Recurring}} '''5:00 pm to 7:30 pm [[Songbridge|Songbridge Music Making Tuesdays]]''' - Beginner-friendly music making and mentoring meetup with Ableton/GarageBand/Logic tutorials for beginners and peer collabs. ([[Noise Square Table]]).






OrphanSed as of 2017-10-31:

OrphanSed as of 2017-10-31:

Line 191:
Line 220:

:'''(TBD)''': [[MoinMoin Wiki]] -  MoinMoin Wiki (details see there)

:'''(TBD)''': [[MoinMoin Wiki]] -  MoinMoin Wiki (details see there)

:'''(TBD)''': [[Noisebridge Fundraiser 2013]]

:'''(TBD)''': [[Noisebridge Fundraiser 2013]]

==Past Event Proposals==

==Past Event Proposals==

:'''(TBD)''': [[Scrum Club]] - I though I'd test the waters and see if anyone was interested in a noisebridge scrum club details are here http://scrumclub.org/scrum-clubs/ if inturested hit me up twitter: @theabcasian, facebook: http://www.facebook.com/theabcasian

:'''(TBD)''': [[Scrum Club]] - I though I'd test the waters and see if anyone was interested in a noisebridge scrum club details are here http://scrumclub.org/scrum-clubs/ if inturested hit me up twitter: @theabcasian, facebook: http://www.facebook.com/theabcasian






= Past Events =

= Past Events =

===2022===

===2022===

* '''Punk Rock Show''' Feb 12, 2022: A bunch of awesome bands played at [[272]].

* '''Punk Rock Show''' Feb 12, 2022: A bunch of awesome bands played at [[272]].

===2021===

===2021===

* '''August 14, 2:00 pm - 4:00 pm'''  Art opening party for sailorhg's beautiful circuit hacking mural! There will be cookies shaped like electronic components! Mural is upstairs; eating and drinking on first floor outdoors only.

* '''August 14, 2:00 pm - 4:00 pm'''  Art opening party for sailorhg's beautiful circuit hacking mural! There will be cookies shaped like electronic components! Mural is upstairs; eating and drinking on first floor outdoors only.

Line 214:
Line 256:

}}

}}






*{{event

*{{event

|time        = Friday, January 25, 2019, 5:00pm

|time        = Friday, January 25, 2019, 5:00pm

|title        = Global Game Jam 2019

|title        = Global Game Jam 2019

|description  = Friday, January 25, 2019, 5:00pm to Sunday, January 27, 2019 5:00pm -- https://www.meetup.com/noisebridge/events/257921084/

|description  = Friday, January 25, 2019, 5:00pm to Sunday, January 27, 2019 5:00pm -- https://www.meetup.com/noisebridge/events/257921084/

}}

}}

<br><br>






===2018===

===2018===

Line 227:
Line 268:

|description  = Friday, January 26, 2018, 5:00pm to Sunday, January 28, 2018 5:00pm -- https://www.meetup.com/noisebridge/events/246695235/

|description  = Friday, January 26, 2018, 5:00pm to Sunday, January 28, 2018 5:00pm -- https://www.meetup.com/noisebridge/events/246695235/

}}

}}

<br><br>






===2017===

===2017===

Line 235:
Line 275:

|description  = Saturday, September 09, 2017, 10:00am to Sunday, September 10, 2017 5:00pm -- https://www.meetup.com/noisebridge/events/241834198/; and Tuesday, September 12th, 8:00pm for the special guest event -- https://www.meetup.com/noisebridge/events/243097404/

|description  = Saturday, September 09, 2017, 10:00am to Sunday, September 10, 2017 5:00pm -- https://www.meetup.com/noisebridge/events/241834198/; and Tuesday, September 12th, 8:00pm for the special guest event -- https://www.meetup.com/noisebridge/events/243097404/

}}

}}

<br><br>






===2016===

===2016===

Line 243:
Line 282:

|description  = Bring #{food, drink} whatever you want to share, potluck style! All Noisebridge folks and friends are welcome! Let's leave from NB 15min before or meet under the palm trees, South-East corner of Dolores Park near the Playground (20th & Church) in San Francisco, CA 94114: https://goo.gl/maps/8jmcnCMayoD2

|description  = Bring #{food, drink} whatever you want to share, potluck style! All Noisebridge folks and friends are welcome! Let's leave from NB 15min before or meet under the palm trees, South-East corner of Dolores Park near the Playground (20th & Church) in San Francisco, CA 94114: https://goo.gl/maps/8jmcnCMayoD2

}}

}}

<br><br>

{{event

{{event

|time        = Saturday, May 28th, 2016, 1pm

|time        = Saturday, May 28th, 2016, 1pm

|title        = Noisebridge picnic-potluck gathering 1pm-3pm

|title        = Noisebridge picnic-potluck gathering 1pm-3pm

|description  = Bring #{food, drink} whatever you want to share, potluck style! All Noisebridge folks and friends are welcome! Let's meet under the palm trees, South-East corner of Dolores Park near the Playground (20th & Church) in San Francisco, CA 94114: https://goo.gl/maps/8jmcnCMayoD2

|description  = Bring #{food, drink} whatever you want to share, potluck style! All Noisebridge folks and friends are welcome! Let's meet under the palm trees, South-East corner of Dolores Park near the Playground (20th & Church) in San Francisco, CA 94114: https://goo.gl/maps/8jmcnCMayoD2

}}

}}

<br><br>

{{event

{{event

|time        = Thursday, February 25th, 2016, 7pm

|time        = Thursday, February 25th, 2016, 7pm

|title        = SF Amateur Mathematicians

|title        = SF Amateur Mathematicians

|description  = Differential Geometry and Wide-Angle Photography with Chad Fong. In Church Room. See [http://www.meetup.com/SF-Amateur-Mathematicians/events/228761849/ Meetup page]. SF Amateur Mathematicians is a math club open to everyone interested in learning more about math. Topics and talks generally assume some collegiate mathematical background.

|description  = Differential Geometry and Wide-Angle Photography with Chad Fong. In Church Room. See [http://www.meetup.com/SF-Amateur-Mathematicians/events/228761849/ Meetup page]. SF Amateur Mathematicians is a math club open to everyone interested in learning more about math. Topics and talks generally assume some collegiate mathematical background.

}}

}}

<br><br>

{{event

{{event

|time        = Sunday, February 7th, 2016, 11:00am

|time        = Sunday, February 7th, 2016, 11:00am

|title        = HackTheLeft

|title        = HackTheLeft
---
Latest revision as of 00:39, 27 November 2023
| | |
| --- | --- |
| | Noisebridge Events include numerous free classes and other official, Semi-Official, one-off and other events. |
Want to host your event at Noisebridge? We like seeing classes, workshops, and talks on interesting things! Most of all, we like seeing familiar faces. Please participate in the space and our weekly Tuesday meetings to check in with folks in the space before announcing a new event. It's good (read this as highly RECOMMENDED!) to add in a link to a wiki page with more information about your event, and a way to contact the event organizer(s). Thanks!
Resources For Hosting Events
Event Calendar
events are haphazardly cross-posted on Meetup, the Discord, and Google Calender here
Key: W: Weekly | 1st 2nd 3rd 4th: Certain weeks | -2nd: Except certain weeks | S: Streaming | event: caution maybe dead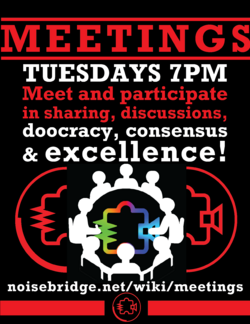 Mondays
| Tags | Time | Title | Description |
| --- | --- | --- | --- |
| W | 7:00pm | 3d Simulation Hack Night | Come work on your Unreal engine, 3d Unity projects, Houdini projects, 3d character design projects, or architecture projects! General meetup for working in simulation and 3d. Hosted by delta_ark |
| W | 7:00pm | Circuit Hacking Monday | Learn electronics, Arduino, and/or how to solder! We have kits and Arduinos for donations, or bring your own project. Most Mondays at 7PM. More details on Meetup |
| W | 7:00pm | PyClass | A complete introductory Python course. Classes are held regularly. Find upcoming sessions on Meetup or in #python on Discord. |
| W | 7:00pm | Meetups/Infra | Self-hosting, rough consensus, & running code. Find upcoming sessions on Meetup or in #meetup-infra on Discord. |
| W | you-o-clock | TRASH NIGHT | Please take out all three large trash bins!! They are on the patio. |
Tuesdays!
Wednesdays
| | | | |
| --- | --- | --- | --- |
| W S | 7:00pm - 9:00pm | Machine Learning AI and RL Meetup | Weekly gathering of AI enthusiasts discussing cool things happening in the field and ongoing projects / learning tracks |
| 1st | 8:00pm | Woodhacking Wednesday | "Have a woodworking project in mind but you don't know where to get started? This is a good time to come ask questions, get some help, and ideas from other woodworkers. Everyone is welcome..." Confirm dates with Meetup |
| 3rd | 3:30pm - 5:30pm | Zinemakers meetup | Monthly gathering of zine and book and comic creators, to share ideas and work on projects. Newbies welcome! Confirm with Meetup |
| 2nd 4nd | 6:00pm - 7:00pm | Bike Psych! | Time and space to talk about transit related projects Confirm with Meetup |
Thursdays
| | | | |
| --- | --- | --- | --- |
| W S | 6:00pm - 8:00pm | Gamebridge | game development mentoring & coworking meetup for gamedev beginners and indies alike. |
| W S | 6:00pm | NeurotechX SF hacknights | for mind-machine interfacing with EEGs. |
| 2nd 4th | 6:00pm - 8:00pm | Advanced Geometry SF | An event for people who would like to study/teach advanced topics in geometry. |
| 3rd S | 8:00pm - 9:00pm | Five Minutes of Fame a.k.a. 5MoF | Ten 5min talks in an hour, on any topic |
| 4th S | 8:00pm - 10:30pm | Resident Electronic Music | An electronic music open mic! (note: Nov/Dec pushed to Dec 10th, 6pm setup) |
| 4th | 9:00pm | Queer Game Developers Meetup! | "Here you will find other queer game devs, game-making enthusiasts, and be a part of a community that welcomes everyone who is interested in creating games." Please register on Eventbrite. See Meetup for more info. |
| W | you-o-clock | TRASH NIGHT | Please take out all three large trash bins!! They are on the patio. |
Fridays
| | | |
| --- | --- | --- |
| brewing & tasting days | Brewery meetup | Come learn to brew mead with Eliot and Andy! Check the Meetup for dates or check in #brewing on Discord. |
| W 2:00pm - 5:00pm | Hack on Noisebridge! | a good open time for cleaning 'n re-organizing the physical space. See #totally-secret-cabal-of-space-organizers on the Discord |
| Dec 15, 6:00pm - 7:00pm | Bureaucrats Workshop | Come learn what it takes to keep Noisebridge going as an organization. Our Board, officers, bylaws; managing membership; filing taxes; physical and digital infrastructure; nonprofit registrations and fees and yearly tasks. Lizzard will give this whirlwind tour! |
Saturdays
| | | | |
| --- | --- | --- | --- |
| W | 9:30am - 1:00am | Hack on Noisebridge! | cleaning, physical organizing and re-organizing, donuts. See #totally-secret-cabal-of-space-organizers! on discord |
| W | 2:00pm - 6:00pm | Free Code Camp | with Paul Farley Brandon as host |
| 3rd | 2:00pm - 6:00pm | Godot Meetup | Gamedev workshop & networking for users of the Godot game engine |
| 4th | 1:00pm - 3:00pm | Building Guitar Pedals Workshop | Come build guitar pedals or other electronic music equipment! Look for the #pedal-building channel under #events in the discord. Check the Meetup for more info and confirmed dates. |
Sundays
CONTACT: If you'd like to contact somebody at Noisebridge regarding these Events or even the Noisebridge Wiki itself, then please send an email message to one of the Board members listed in the Contacts list, e.g., <secretary@noisebridge.net> or <treasurer@noisebridge.net>
Orphaned Events
These events appear to be dormant or extinct.
Circuit Launch (under other BACH events): 3rd Friday 5:30pm-8:30pm Robot Build Night & Fixit Clinic
W 7:00 pm to 8:30 pm Noisebridge SQL Class - Wondering why SQL is so popular and used even though it has been around for decades? Come find out @ Noisebridge SQL class! This class is an intro / intermediate level class on SQL—the backbone language to any relational database around. (Church classroom).
SAT 10:15 - 12:10 Juggling with Judy! Note: next class is scheduled for Saturday June 29th. Attention juggling fans! Judy will be at the 2013 World Juggling Day celebration Saturday June 15th at Ripley's Believe It Or Not Odditorium in San Francisco Fisherman's Warf - free event begins at 1. Come check it out!
THU 18:00 - 21:00 Privacy Bay - A monthly meetup for Bay Area folks interested in privacy. Meets in Church on the last Thursday of the month.
FRI 19:00 - 21:00 Anarchy 101 - a class/seminar on what anarchy is and is not, and how it impacts us as individuals and as discrete groups.
20:00 - 22:00 Noise~ Wed - Graphical media programming with Max/MSP/Jitter
19:00 Tahoe-LAFS - Occasional meetup of users and/or developers of the Least Authority File System.
14:00 - 16:00 Android Developer Support Group - Meet up with other app developers in the library for a lightly structured knowledge-share.
W 5:00 pm to 7:30 pm Songbridge Music Making Tuesdays - Beginner-friendly music making and mentoring meetup with Ableton/GarageBand/Logic tutorials for beginners and peer collabs. (Noise Square Table).
| 3rd || 1:00pm - 5:00pm || TOOOL-SF || locksport meetup of The SF Chapter of the Open Organisation Of Lockpickers. |-
OrphanSed as of 2017-10-31:
(Wednesday) W 2:00 pm to 3:30 pm Build a Solar Lab Kit with SpyCamp - Starting June 14th to August 16th, at 2:00pm sharp Natalie (errcat) will be leading a solar charger kit lab for kids! Friends and family are invited to come with their kids and build a solar charger along side kids from SpyCamp. Kits are sold at the door for 20 dollars for whoever wishes to participate (5 dollars from each kit are donated to Noisebridge).
(Wednesday) alternating monthly 6:30 pm to 9:30 pm - Cyberspectrum: Software Defined Radio Meetup in the Hackatorium(new): A place to learn and exchange ideas about SDR. Presentations on concepts, mystery signals, hardware/software and cool applications. Event alternates monthly between SF and the South Bay.
(Wednesday) 1st Wednesday of every month, 7:30-9. with Software; Art() Present your personal and expressive art made with software/hardware of your own making and get feedback and critical dialogue from fellow artist/technologists. ON HIATUS TILL OCTOBER! [Last updated August 2, 201S7].
(Wednesday) W 7:30 pm to 9:00 pm - Career Change: How to kickstart your new career in web development
(Thursday) W 7:30 pm to 10:00 pm The Go group meets up on Wednesdays and Thursdays to play.
(Sunday) W 3:00 pm Go - Playing of the Go board game. On nice days we often take the boards to Dolores Park and play there.
(Sunday) W 12:00 pm to 4:00 pm .impact Workathons in Turing classrom. Work on projects that will help humanity & beyond.
Removed Open event listings as the hours already say that and it makes the list take up more space and harder to read on screens and printouts.
W 3:00 pm - 9:00 pm Noisebridge is open!
W 6:00 pm - 11:00 pm: Open We are open Friday evenings!
W 12:00 pm - 5:00 pm Noisebridge is open! Come hack and we may stay open later
W 1:00 pm - 5:00 pm Noisebridge is open!
Proposed Future Events and Classes
Past Event Proposals
Past Events
2023
2022
Sunday Streets on july 10th, Valencia
Punk Rock Show Feb 12, 2022: A bunch of awesome bands played at 272.
October 12, 2022 6:30PM Pre ROS Con Meetup Featuring delegates from OpenCV and ROS robotics.
San Friend Disco July 29: A musical and visual 7-10 pm afterparty following a Delores Park picnic.
June 21, 3:30pm - 4:30pm 80 engineering students from Barcelona are coming for a tour! (Lizzard to host)

NB14 Kickoff: Friday, April 1: Noisebridge's 14th anniversary party, HackComedy & Stupid Hackathon 8 kickoff.
NB14 Hackday: Saturday, April 2: Stupid Hackathon 8 jamming day & workshops.
NB14 Finale: Sunday, April 3: Stupid Hackathon 8 Demo Night & NB14 Finale & Music Show.
NeurotechX GDC 2022: March 24 Noisebridge is hosting a Neurotech in gaming party for GDC. Host: User:Pyconaut
MNT Reform: Friday, March 4, 6pm-8pm Hosted by TJ Melanson with Lukas F. Hartmann coming all the way from Berlin, Germany via Jitsi.
The Beat Frequency: Oscilator Vol. 1: March 4 8pm-11pm Noisebridge's electronic musicians will perform.
2021
August 14, 2:00 pm - 4:00 pm Art opening party for sailorhg's beautiful circuit hacking mural! There will be cookies shaped like electronic components! Mural is upstairs; eating and drinking on first floor outdoors only.
August 21, 8:00 pm - 10:00 pm HackComedy! Comedy night run by Victor! Donations welcome! Details to come.
Sunday, December 10, 01:00: [[Blender 3D Animation and Design class|Blender 3D Animation and Design class]], Blender Class teaching the basics of 3d design and animation.
2019
Friday, February 22, 19:00: [[Road Rash 2|Road Rash 2]], Friday, February 22, 2019, 19:00 -- Come play Road Rash 2 with the Noisebridge Gaming Archivists live on NGALAC or watch us online at twitch.tv/noisebridge.
2018
2017
Saturday, September 9, 10:00: Noisebridge 10 Year Anniversary Exhibition and Ball, Saturday, September 09, 2017, 10:00am to Sunday, September 10, 2017 5:00pm -- https://www.meetup.com/noisebridge/events/241834198/; and Tuesday, September 12th, 8:00pm for the special guest event -- https://www.meetup.com/noisebridge/events/243097404/
2016
Hackathon participants should be able to get into Noisebridge by its 11:00 AM opening hour, if not earlier, for both weekend days.
2014
2013
Friday, August 11, 17:00: Noisebridge Party Setup, Volunteers will be preparing the space for Saturday's show. There are no scheduled conflicts; you might be asked to move multiple times by someone pushing a broom and assembling a raised stage simultaneously.
Wednesday, May 22, 7.00 pm: Instructables Build Night - Bare Conductive, Instructables will supply Bare Conductive paint pens and pizza. Come experiment with the paint and post some Instructables. This is a FREE event.
2012
December 20, Thursday, 20:00 - 22:00 - 5 Minutes of Fame - Following up on its triumphant return in November, 5MoF is back with another showcase of lightning talks & other good stuff, with your host Sir Danny O'Brien! Details TBA
Tuesday Feb14th, 18:00 to 20:00 ZiP MegaZine releases its inaugural issue with My Noisy Valentine Zine Release Microparty in the Noisebridge cafeFor more info follow this link.
Wednesday, Jan30, 20:00-22:00 ZiP meeting for zine-makers & others with an interest in printing & self-publishingThe meeting 1/30/13 is our first since mid-2012We plan to hold them regularly from now on at this time (Wednesday 8pm)This meeting will be informal & will probably take place in the printing/lasercutter area of the hackerspace.
2011
September 11th 14:00 to 17:00 - The San Francisco Chapter of the Open Organisation Of Lockpickers and Bay Area Hacker's Association present a joint meeting on locksport
August 4, 7PM, Thursday - Bob Zeidman will be giving a talk on video games and intellectual property, hosted by TheMADEHe will also speak about IP infringement cases.
August 9, 6:30PM, Tuesday - Make:SF - Chris Jefferies will speak about the wireless sensor kit he is developing and we are brinunderstanding and using computersging back our all star soldering kits.
April 13th, 19:00 - Kombucha fermentation class with BioBridge
April 7th, 20:00 - Noisebridge: In-Depth Our monthly lecture and round tableThis month's speaker will be Aragorn! his lecture will be "Anarchism & technology: An unbridgeable chasm"
April 4th, 20:00 - Camp KDE PartyCome and meet part of the KDE North America community and get a quick overview of this year's Camp KDE conferenceThere will be beer
April 3rd, 16:00 - NoiseCaching: Meet-up to build some geocaches, and talk about making geocoinsThen we'll head out to find some local caches and place caches we madeMore info about Geocaching here
March 20th, 19:00 Hack Politics meetup -- the first meetup to figure out how we in the hacker community can effectively mobilize and create meaningful change in these interesting times
March 12th, 12:00-18:00 - Noisebridge Hackathon! Second Saturday Hackathon is a casual monthly event dedicated to working on the space or relevant projects and building community This is a great time to get feedback or help on any projects you have been considering that center around the space, culture, and infrastructure of Noisebridge You can also help with existing projects and find out ways to get involved.
March 10, Thursday, 19:00 - Group Grammar Clinic - Church Classroom - Donations gladly accepted - A clinic for grammar and writing evaluationPlease bring your web/social or technical writing for us to evaluateBring your laptop as well Collaboration groupware possibly provided(Please suggest groupware software to use if you wish)Constructive feedback from other group members is encouraged so that this clinic is a group process- Facilitator: Owen (opietro@yahoo.com)
March 9th, 20:00 - Ferment and filter a mash! fermentation logs
2010
Sunday, August 22, 19:00 CLUB-MATE DROPOFF AND TASTING PARTY Nick Farr will be in town to drop off Club-Mate ordered by San Franciscans!
June 5th, 12:00-19:00 - NoiseBridgeRehab - Help make the space more usable and accessible! Noisebridge needs your help!
June 5th, 16:00-20:00 - Science For Juggalos - Science Fair in front of the Warfield Theater teaching magnetism to Juggalos
June 6th, 15:00 - AVC Meetup - Entrepreneurial bonding & matchmaking
June 9th, 21:00 - Your liver supports Noisebridge - Come to Elixir @ 16th & Guerrero anytime after 21:00 and drink, drink, drink! 50% of tips go to Noisebridge
February 27th, 20:00 - Hacker EPROM - Noisebridge's first prom! Nice tie and a (robot) date requiredWe will have a DJ and punch.
February 24th, 19:00, Wednesday - Joris Peels, of Shapeways, and expert on 3D printing, will give a talk and demonstration at Noisebridge!.
February 23rd, 18:00 - Cleaning day - Come and help clean Noisebridge, because everyone loves a clean hack space.
February 12th, 21:00 - visit from Steve JacksonGame designer Steve Jackson, founder of Steve Jackson Games, will visit Noisebridge.
January 27th, 18:00-20:00 - Circuit Bending Workshop - Beatrix*JAR (contact Gian Pablo for more info)
January 27th, 20:00-22:00 - Circuit Bending Performance - Beatrix*JAR - "Celebrate a night of new sound that will change your idea of music forever!"
January 25th, 19:30 - Bag Porn - What's in your bag?
January 20th, 19:00-21:00 - Bay Categories & Types - Categories, monoids, monads, functors and more! Held in the Alonzo Church classroom.
January 20th, 19:00 - User Experience Book Club SF - Our book this month is "A Theory of Fun for Game Design" by Raph Koster - http://is.gd/6sEqw (meets in Turing)
January 21st, 20:00 - Five Minutes of Fame - Monthly set of lightning talks on diverse topics
January 22nd, 17:00 - Cleaning Party - Come help clean up Noisebridge! Awsum fun!
...January 14th,16th, and 17th 1:00- ??? Build Out day for kitchen/bathroom/laundry bring yourself and a good attitude, learn a few things as well
January 15th, 18:00 - CNC_Mill_Workshop - Learn to use the CNC mill for 2D engraving and circuit board routing
Thursdays 17:00 American Sign Language - Learn how to talk without using your voice (or just come chat in ASL)click to reschedule
2009
2008
Subcategories
This category has the following 6 subcategories, out of 6 total.
Pages in category "Events"
The following 162 pages are in this category, out of 162 total.