Difference between revisions of "Noisebridge"
(no reason to insult sudoroom by mentioning them as your reasoning; porn removed)

Line 1:
Line 1:
−

[[File:Shield.jpg|800px]]

+
 
+
 
+
 
+
 
+

 

 
+
 
+
 
+
 
+
 
+

 

 
+
 
+
 
+

 

 
+
 
+
 
+

 

 
+

 

 
+

[[File:

 
+
 
+
 
+
 
+

 

 
+
 
+
 
+
 
+
 
+
 
+
 
+
 
+

.jpg|

 
+
 
+
 
+
 
+
 
+
 
+

 

 
+
 
+

 

 
+
 
+

 

 
+
 
+
 
+
 
+
 
+
 
+
 
+

 

 
+
 
+

 

 
+
 
+

 

 
+
 
+

 

 
+
 
+

 

 
+
 
+

 

 
+
 
+

 

 
+
 
+

 

 
+
 
+

 

 
+
 
+

 

 
+
 
+

 

 
+
 
+
 
+
 
+
 
+
 
+
 
+
 
+
 
+
 
+
 
+
 
+
 
+
 
+

 

 
+
 
+
 
+
 
+
 
+

 

 
+

 

 
+
 
+
 
+

 

 
+

]]
---
Revision as of 02:48, 11 September 2014
Noisebridge is a space for sharing, creation, collaboration, research, development, mentoring, and of course, learning. Come visit, work, and use our equipment free (but please donate when you can!)
Noisebridge is also more than a physical space; it's a community with roots extending around the world.
Noisebridge status: Closed until the beginning of September, except for scheduled classes & events.
WE FINALLY DID IT !!!
Many thanks to all of you who donated and
made our
Indiegogo
such a rousing success!!
Remaining volunteer labor still appreciated

An hour, a few hours, lots of hours -- however much time you would like to add.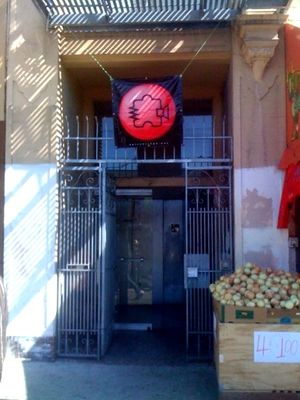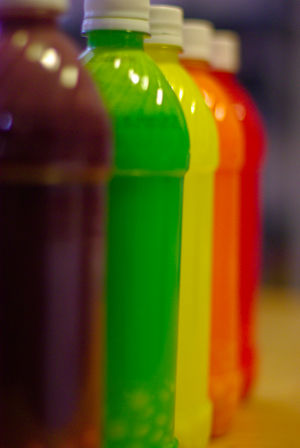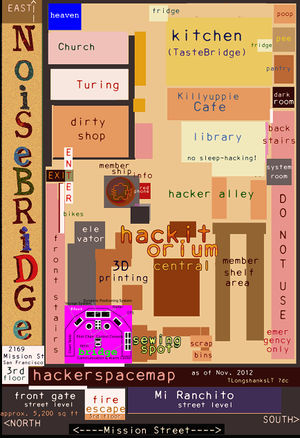 What to know about coming to Noisebridge: Access policy.
Please see our events hosting page for suggestions on how to use Noisebridge for your event/class/workshop.
Key:
E - Every week.
1st 2nd 3rd 4th - Certain weeks, e.g. 1st week only.
-2nd - Except certain weeks, or other schedule exceptions.
S - Streaming with chat for remote attendees via Jitsi or Discord or both. Event hosts can find streaming instructions in the event how-to.
Sundays
E 1:00 pm - 5:00 pm Noisebridge is open!
Mondays
(We need someone to commit to opening/closing on Monday!)
Super Tuesdays!
E S 7:00 pm Noisebridge Weekly Meeting - Introducing new people and events to the space, general discussion, and decision-making on key issues. This is your space, folks. Come on out here in person to express what you think about what's going on with it! You can also join online via Jitsi.
Wednesdays
E S 7:00 pm Machine Learning AI and RL Meetup at Noisebridge until 9!
E S 8:80 - 11:00 pm Gamebridge game development mentoring & coworking meetup for gamedev beginners and indies alike.
Thursdays
Fridays
E 12:00 pm - 6:00 pm Open Open for FreeCodeCamp with Paul_H as host
E 7:00 pm - 9:00 pm Open Open for Chess Meetup!
E 6:00 pm - 11:00 pm: Open We are open Friday evenings!
Saturdays
E 12:00 pm - 5:00 pm Noisebridge is open! Come hack and we may stay open later
August 14, 2:00 pm - 4:00 pm Art opening party for sailorhg's beautiful circuit hacking mural! There will be cookies shaped like electronic components! Mural is upstairs; eating and drinking on first floor outdoors only.
August 21, 8:00 pm - 10:00 pm HackComedy! Comedy night run by Victor! Donations welcome! Details to come.
You don't need to be a member to participate in a class or workshop at Noisebridge!
Want to host your event at Noisebridge? We like seeing classes and talks on interesting things pertaining to various subjects of hacking. Most of all, we like seeing familiar faces. Please participate in the space and our weekly Tuesday meetings to see if we're the right audience for what you want to share before announcing a new event. Additionally, here are some Hosting an Event tips.
Info
Intro Poster: How we explain ourselves to new visitors.
Resources: Stuff in the space -- computer network & servers, project areas, tools, bulk orders from Digikey/McMaster/Mouser.
Safety in the Space: What to do in case of an emergency.
Press Coverage: mentions of Noisebridge in the media (both blog and dead tree).
Identity: A collection of resources revolving around our identity and logo.
The Neighborhood: What's in the neighborhood around 2169 Mission
Hosting an Event at Noisebridge: Suggestions on how to use Noisebridge for your event/class/workshop.
Hackerspace Infos: Howtos, Background, and friendly Hackerspaces elsewhere.
Get in Touch
Press: Please see our Press Kit - Includes press contacts, pictures, background info, etc.
Contacts - General contact details for the space
Mailinglist - Best way to keep informed of upcoming events
Call the red payphone - This option is temporarily unavailable
Here is our mailing address (different from our physical address):

          Noisebridge
          2261 Market Street #235-A
          San Francisco, CA 94114

          2169 Mission St, 3rd floor
          San Francisco, CA 94110
Status
Noisebridge is closed until the beginning of September -- except for scheduled classes & events -- in order to put our final repairs, updates, retrofits, etc. into place.
We began building Noisebridge in February 2007. Since December 2007 we've had regular Tuesday meetings, and rented our first physical space as of October 1st 2008. We quickly outgrew our first space and have been at our much larger 5,200 square-foot second location since October 1st 2009. We are a tax-exempt 501(c)(3) organization as of July 2009, retroactive to October 2008.