Difference between revisions of "Noisebridge"
m

Line 1:
Line 1:
−

<nowiki>

+
−

Still, his cock grew.

+
 
+

<>

 
+
 
 
−

Eight inches ... Nine, and still growing.  His erection was now half as thick as his

+
−

own wrist as -with a grunt of sexual ecstasy- he began to spurt enormous quantities of

+

.

−

cum into daravinne's throat. Greedily, she slurped and sucked on him as the tingle

+
−

began to fade. Drop by drop, she tried to stem the stream, but enormous quantities

+

-- '. .'

−

spilled out from around her mouth.  Nearly a minute passed, as rubin110 reached and

 
−

exceeded ten inches.  Still sucking down as much of his cum as she could, daravinne

 
−

squeezed his balls tightly, as if wringing every drop out of him.  Spurting over her lips,

 
−

face and hair, rubin110's orgasm gradually subsided, leaving him still shaking with

 
−

pleasure.

 
 
 
−

Gasping for air, daravinne wiped her mouth on the back of her hand and looked at

+
−

rubin110, stunned.  "That's ... that's some experiment!" she gasped.

+

"..!

 
 
−

rubin110 looked at his erection, amazed. "I thought it had stopped earlier...  My God,

+

."..!

−

I'm huge!"  Tentatively, he touched his engorged tip and patted it with his finger tips.  It

+
−

bobbed slightly as he stood up.

 
 
 
−

Picking up a tape measure from the hall desk, daravinne quickly came over to rubin110

 
−

and measured him.  She let out a low whistle of appreciation at his new length as she

 
−

wrapped the tape measure around his shaft.  She looked up at him...  "rubin110, you've

 
−

grown to eleven inches long and five-and-a-half inches around."  She did some quick

 
−

mental math.  "Jesus, rubin110.  You're almost two inches thick!  What was in that stuff you

 
−

experimented with?"

 
 
 
−

rubin110 shrugged. "A variety of organic compounds normally found in DNA

+

.

−

patterns associated with sexual development.  I mean, I had to also add synthetic

+

, , '

−

hormones and dissolve it all in an amino acid bath, but I didn't expect this sort of

+

......

−

reaction... Earlier, it enlarged me quite a bit ... over a fifty-percent increase.  This isn't

+

a - much to .

−

that much of an increase compared to the first growth spurt, but I never expected..."

 
 
 
−

"Are you saying that you'll get bigger every time you climax?"

+
 
+
 
+
 
+
 
+
 
+
 
+
 
+
 
+
 
+
 
+

'

 
+
 
+
 
 
−

The abrupt question brought rubin110 to a sudden stop.  In truth, he had tried to tie

+

and

−

the growth to hormonal and stress levels in the body and appropriate glands, but

 
−

could it be true?  He shuddered to think about it.  Even if the percentage growth was

 
−

less each time, he could be gargantuan in a very short time...  True, he'd fantasized

 
−

about elephantine proportions and even beyond, but in Real Life...

 
 
 
−

He looked at daravinne, uncertain.  "I really don't know.  It wasn't as big an

+

know to .

−

increase as the last time, so it may be just residual effects.  Y'see, I was aiming for

 
−

something around fourteen to sixteen inches..."  daravinne looked at him stunned and

 
−

with a half-smile.

 
 
 
−

"Not bad..." she murmured. Brightening, she tapped his still-stiff member, "I

+

.

−

guess we'll have to test that theory ... get on the bed."

+
 
+

. . . -

 
+

..

 
+
 
+

"

 
 
−

rubin110 looked surprised. "But ... but daravinne.  I mean, what if I *do keep getting

+

. . . .

−

bigger?  This could be a catastrophe!"

 
 
 
−

With raised eyebrows and lick of her lips, daravinne smiled.  "Tell me about it..." 

+
−

Pressing her massive breasts against his chest, she slowly rubbed her flesh over his,

 
−

enticing him.  Seemingly, the compound had also given him extra stamina, because

 
−

his enlarged penis began to rise again.  She smiled coyly as she felt his manhood

 
−

press against her inner thigh.  "I mean, if things got too bad, you could create a

 
−

reverse formula, couldn't you?"

 
 
 
−

rubin110 thought about it for a second.  It was somewhat unfair; daravinne's ample

+

to .

−

endowments were clouding his judgment along with her implied promise of even

 
−

more sex...  Still, he was pretty sure he understood the principles behind the

 
−

enlargement.  In fact, he thought as he began to massage her hard nipples, he was

 
−

sure he could undo it...  In response to her, rubin110 simply nodded.

 
 
 
−

Taking his nod as an assent, daravinne quickly swept the smaller man up and

+

the , , , .

−

hoisted him over to the bed.  Swinging him in a broad arc, she slung him down with a

 
−

whoosh of air from her soft mattress.  With a continuous, smooth motion, she swept

 
−

down and pounced on him like a cat on a tiny, frightened rabbit.  Her knees flanking

 
−

his hips and her hands planted on either side of his shoulders, she looked down on

 
−

him with a playful look of glee.  rubin110 couldn't think of anything to say ... he'd never

 
−

seen her like this!

 
 
 
−

Slowly, she ran her fingers down his chest, gently massaging his tense

+

to in .

−

muscles.  Enticingly, she continued to follow his muscular contours down to his now

 
−

rock-hard groin.  With a conspiratorial smile, she leaned forward -her breasts resting

 
−

against his lower legs- and licked his engorged tip.  Gradually, daravinne moved up and

 
−

down rubin110's erection; every second pausing to deliver a tiny, enticing lick to him.  rubin110

 
−

clenched his eyes shut as he drew in each successive breath with a shudder.

 
 
 
−

Lingering gently, daravinne planted a series of successively more lengthy kisses

+

of in the and .

−

with her supple lips along the length of his shaft.  Her eyes half-closed in erotic

 
−

pleasure, she ran her tongue around the tip of his cock, following the ridge of its head. 

 
−

She paused only a second to look rubin110 in the eyes before parting her lips slightly and  

 
−

sucking on his engorged mushroom-like head.  Her tongue roaming around the

 
−

surface of his cock, daravinne pumped her mouth repeatedly up and down his shaft. 

 
−

Uncontrollably, rubin110 began to buck his hips gently against her face while his short,

 
−

deep breaths became soft moans of ecstasy.

 
 
 
−

Slowly, she sucked him deeper and deeper, until he could feel the contours of  

+

of around and .

−

her throat wrapping itself around his eleven-inch boner.  His grunts and groans came

 
−

louder as he began to grind more heavily into her luscious lips.  She barely was able

 
−

to fit her mouth around the width of his shaft at its base as he pumped and bucked

 
−

under her oral care.  Indeed, his balls -bouncing madly against his thighs- were each

 
−

more than she could've taken into her mouth.  Slowly, she pulled back from him -lips

 
−

lingering tantalizingly- leaving his throbbing cock wanting her return.

 
 
 
−

With another smile, she leaned down further and sucked on his balls, while her

+
−

hands slowly stroked his erection.  Pausing, she smiled up at him.  "Is Little rubin110 ready

 
−

to get big for me?" she asked teasingly.  rubin110 could only nod dumbly, fearing that she

 
−

might not resume.  Smiling broadly, she slowly rose to her knees and placed her cunt

 
−

over his massive tip.

 
 
 
−

Closing her eyes in anticipation, she slowly lowered herself down over his

+

how to .

−

erection.  A sharp intake of breath was the only outward sign of how she felt to have

 
−

his massive cock enter her body.  With hands quivering in ecstasy, she guided rubin110's

 
−

palms to her breasts as she began to ride him up and down.  Deep inside his balls,

 
−

rubin110 could feel the tingle of the fluid begin to build.

 
 
 
−

He pressed against her breasts slowly, massaging them as he moaned aloud to

+

, , and .

−

her gyrations.  Each thrust sent tiny electrical sparks of pleasure down his penis into

 
−

his balls, seemingly feeding the tingle already there.  With ecstatic vigor, rubin110 pressed

 
−

and massaged daravinne's breasts, fondling her hard nipples and caressing her

 
−

Enormous Endowments.  The tingling in his balls grew.

 
 
 
−

Soon, the now-familiar tingling began to spread as he felt himself ready to cum. 

+
−

daravinne, riding his erection like a jockey, began to breathe in loud, grunting barks.

+

- , , , .

−

Forcing himself to watch, rubin110 glanced at the portion of his cock that daravinne hadn't

+
−

taken into her already. Sure enough, it was growing!  Slowly, he felt his balls swell,  

+

to of

−

going from the size of small oranges upwards towards the 'baseball' category.  Spurts

+
−

of cum started to erupt from his cock deep inside daravinne's cunt as his shaft began to

+
−

grow longer and thicker.  rubin110 clenched his eyes shut and let the feeling wash over

+

.

−

him.  The growth was so erotic, rubin110 didn't know if he wanted it to stop ... ever.

+
 
+

,

 
+

from

 
+

''

 
+

'

 
+

, '

 
 
−

Centimeter by centimeter he watched his cock grow thicker, spreading daravinne's

+
−

cunt ever wider in its wake. Both of her hands came down to grip the base of his cock

+

by '. in. , all

−

as she looked down in disbelief. At least six inches were outside of her now, and she

+
−

had taken him nearly all the way before.  rubin110 opened his eyes and stared in disbelief. 

+

, '

−

He was growing even faster this time!  His cumming continued to make him buck like a

 
−

bronco as his shaft grew ever more horse-like.  Thicker and longer -twined with huge,  

 
−

thick veins- his erection plowed into daravinne's tight bush like a dog trying to fit into a

 
−

rabbit hole.

 
 
 
−

"Ahhh!  rubin110!  Omigod ... you're goin' too ... far!"

 
 
 
−

Drastically, rubin110 tried to pull himself out of daravinne before he hurt her.  Her

+
−

moaning and bucking were intense and -just before he could- he felt himself hit a

+

of -- in , , , ..

−

massive climax.  Rigid, he watched as his cock rocketed upwards in size, spreading

 
−

her cunt lips and making her squeal half in pain, half in ecstasy.  His balls pumped

 
−

and churned as they lay heavy on his thighs.  In shock he looked at them, tangled in

 
−

their mass of pubic hair.  Each was larger than a large grapefruit!  His shaft had to be

 
−

at least three and a half inches across and nearly sixteen inches long!  The spasm

 
−

began to fade, but the tingling in his balls remained. Orgasm subsiding, rubin110 felt his

 
−

body grow limp in its wake.

 
 
 
−

Slowly, daravinne pulled off of him and slumped next to him on her bed.

+

. ', and .  and ,-.  a as of , to .

−

 

 
−

His massive rod stood up from his midsection like a bent flagpole.  Gobs of his

 
−

cum dripped from daravinne's stretched cunt as she panted for breath and rubbed her

 
−

delicate hands over rubin110's chest.  Opening her eyes, she glanced at rubin110's waist and  

 
−

shook her head slowly.  "God, rubin110...  I don't believe it."  She smiled, and nuzzled the

 
−

smaller man's neck -her glistening breasts pressing against his chest.  "Th' bigger th'

 
−

better, I've always said...  I don't think I've Ever been this turned-on!"

 
−

 

 
−

rubin110 returned her smile and kissed daravinne gently on the cheek.  He tenderly

 
−

stroked her breasts, fingertips lingering on her aureoles and nipples.  "Yeah, but any

 
−

bigger and only a Clydesdale would be able to take all of me..."

 
−

 

 
−

daravinne shrugged as she nestled into the size of rubin110's body.  "Maybe," she said

 
−

conspiratorially, "that wouldn't be all that bad."  With that cryptic remark, daravinne closed

 
−

her eyes and gently drifted off to an erotic sleep.

 
−

</nowiki>

 
---
Revision as of 14:28, 22 September 2014
Noisebridge is a space for sharing, creation, collaboration, research, development, mentoring, and of course, learning. Come visit, work, and use our equipment free (but please donate when you can!)
Noisebridge is also more than a physical space; it's a community with roots extending around the world.
Noisebridge status: OPEN. And don't let anyone tell you otherwise.
WE FINALLY DID IT !!!
Many thanks to all of you who donated and
made our
Indiegogo
such a rousing success!!
Creative, crafty, hacker-ly help at the space will always be appreciated

An hour, a few hours, lots of hours -- however much time you would like to add.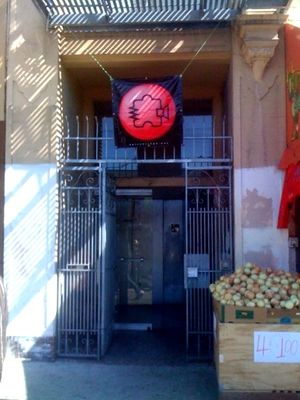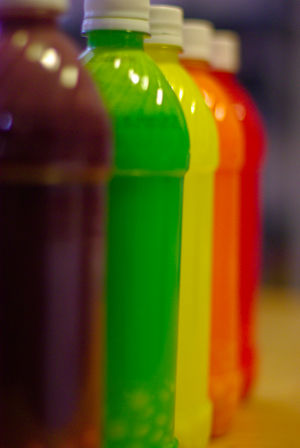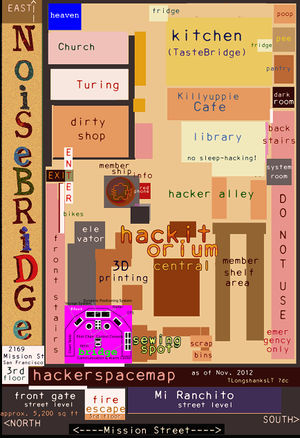 What to know about coming to Noisebridge: Access policy.
Please see our events hosting page for suggestions on how to use Noisebridge for your event/class/workshop.
Key:
E - Every week.
1st 2nd 3rd 4th - Certain weeks, e.g. 1st week only.
-2nd - Except certain weeks, or other schedule exceptions.
S - Streaming with chat for remote attendees via Jitsi or Discord or both. Event hosts can find streaming instructions in the event how-to.
Sundays
E 1:00 pm - 5:00 pm Noisebridge is open!
Mondays
(We need someone to commit to opening/closing on Monday!)
Super Tuesdays!
E S 7:00 pm Noisebridge Weekly Meeting - Introducing new people and events to the space, general discussion, and decision-making on key issues. This is your space, folks. Come on out here in person to express what you think about what's going on with it! You can also join online via Jitsi.
Wednesdays
E S 7:00 pm Machine Learning AI and RL Meetup at Noisebridge until 9!
E S 8:80 - 11:00 pm Gamebridge game development mentoring & coworking meetup for gamedev beginners and indies alike.
Thursdays
Fridays
E 12:00 pm - 6:00 pm Open Open for FreeCodeCamp with Paul_H as host
E 7:00 pm - 9:00 pm Open Open for Chess Meetup!
E 6:00 pm - 11:00 pm: Open We are open Friday evenings!
Saturdays
E 12:00 pm - 5:00 pm Noisebridge is open! Come hack and we may stay open later
August 14, 2:00 pm - 4:00 pm Art opening party for sailorhg's beautiful circuit hacking mural! There will be cookies shaped like electronic components! Mural is upstairs; eating and drinking on first floor outdoors only.
August 21, 8:00 pm - 10:00 pm HackComedy! Comedy night run by Victor! Donations welcome! Details to come.
You don't need to be a member to participate in a class or workshop at Noisebridge!
Want to host your event at Noisebridge? We like seeing classes and talks on interesting things pertaining to various subjects of hacking. Most of all, we like seeing familiar faces. Please participate in the space and our weekly Tuesday meetings to see if we're the right audience for what you want to share before announcing a new event. Additionally, here are some Hosting an Event tips.
Info
Intro Poster: How we explain ourselves to new visitors.
Resources: Stuff in the space -- computer network & servers, project areas, tools, bulk orders from Digikey/McMaster/Mouser.
Safety in the Space: What to do in case of an emergency.
Press Coverage: mentions of Noisebridge in the media (both blog and dead tree).
Identity: A collection of resources revolving around our identity and logo.
The Neighborhood: What's in the neighborhood around 2169 Mission
Hosting an Event at Noisebridge: Suggestions on how to use Noisebridge for your event/class/workshop.
Hackerspace Infos: Howtos, Background, and friendly Hackerspaces elsewhere.
Get in Touch
Press: Please see our Press Kit - Includes press contacts, pictures, background info, etc.
Contacts - General contact details for the space
Mailinglist - Best way to keep informed of upcoming events
Call the red payphone - This option is temporarily unavailable
Here is our mailing address (different from our physical address):

          Noisebridge
          2261 Market Street #235-A
          San Francisco, CA 94114

          2169 Mission St, 3rd floor
          San Francisco, CA 94110
Status
Noisebridge is closed until the beginning of September -- except for scheduled classes & events -- in order to put our final repairs, updates, retrofits, etc. into place.
We began building Noisebridge in February 2007. Since December 2007 we've had regular Tuesday meetings, and rented our first physical space as of October 1st 2008. We quickly outgrew our first space and have been at our much larger 5,200 square-foot second location since October 1st 2009. We are a tax-exempt 501(c)(3) organization as of July 2009, retroactive to October 2008.