Noisebridge
Programming • Hardware • Science • Photography • Security
Robotics • Art • 3D Printing • Wood/Metalworking • and more!
We are Noisebridge
Noisebridge is a hackerspace for technical-creative projects, doocratically run by our members. We are a non-profit educational institution intended for public benefit. We operate primarily in a 5,200 square-foot space located in the heart of San Francisco. We teach, we learn, we share. Read more about Noisebridge or watch a short video…
We are committed to providing a safe space to work, learn, and play. Please read and understand our anti-harassment policy and community standards. This is how we expect people to behave when they are at Noisebridge, and you should also expect this standard of behavior from others in the space.
Noisebridge relies on your donations to continue operating. If you have found Noisebridge useful, please consider donating to help us keep operating.
Create With Us!
Our 5,200 square-foot space (483m2) contains an electronics lab, machine shop, sewing/crafting supplies, two classrooms, conference area, library, darkroom, and kitchen. Everyone is welcome to use our many resources. Find others to create with. Find help with your projects. Help others with their projects. Learn, teach, share. Come to Noisebridge and create!
Noisebridge's public hours are now 24/7. New visitors are welcome any time (all ages, all skill levels), but it's best to visit when members are present or during an event to make sure we have a volunteer to show you around and make introductions.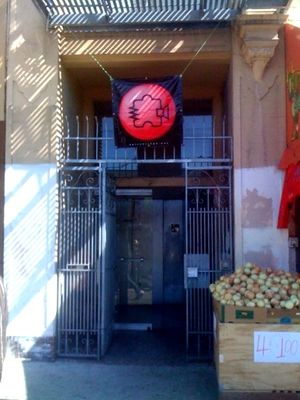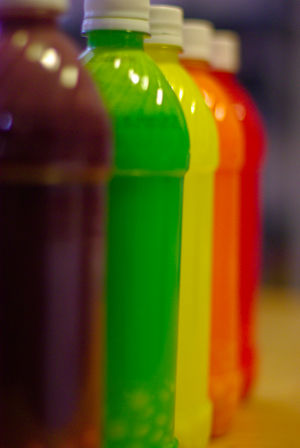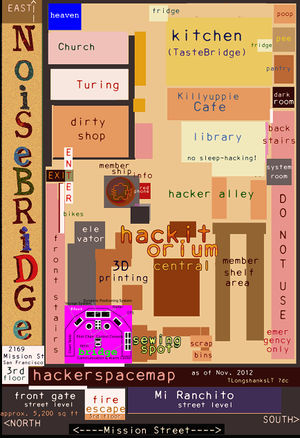 Events and Classes
Full Event Listing | Unofficial Google Calendar
Want to attend a class or event? Before you arrive or once you're at the space, just ask the teacher or event organizer if you can be their guest. Read more about our access policy. Please see our events hosting page for suggestions on how to use Noisebridge for your event/class/workshop.

A subscribable calendar of events can be found here.
Key: W: Weekly 1st 2nd 3rd 4th: Certain weeks -2nd: Except certain weeks S: Streaming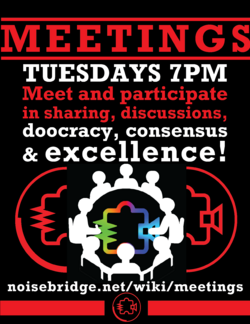 | | | | |
| --- | --- | --- | --- |
| | August 11th 5-7PM | Open Source Robotics Meetup | Meetup for development of robots & OpenCV |
| | August 13-14 1pm-5:00pm | VALENCE OXYTOCIN Workshop | Series of Workshops on laser cutting, LED programming, projection mapping and so on. |
| | August 21st 11AM - 4PM | Sunday Streets | In SoMa neighborhood. Noisebridge will have a booth! See page for more info |
Mondays
| Tags | Time | Title | Description |
| --- | --- | --- | --- |
| W | Inactive | Circuit Hacking Monday | learn electronics, and how to solder! Should happen again at 5pm with new volunteer teachers wanted! |
Super Tuesdays!
Wednesdays
W

S

8:00pm - 10:00pm
Machine Learning AI and RL Meetup
at Noisebridge until 10!

W

S

6:00pm - 8:00pm
Gamebridge
game development mentoring & coworking meetup for gamedev beginners and indies alike.
Thursdays
W

S

4:00pm - 9:00pm
To-do-ocracy Thursdays
where we work together on our task list.

W

S

7:00pm - 8:00pm
MetaGuild Meeting
Discussion on the meta-organization of Noisebridge and the Guilds system (hybrid in-person w/ virtual attendance in Discord)

W

S

6:00pm
NeurotechX SF hacknights
for mind-machine interfacing with EEGs.

3rd

S

8:00pm - 9:00pm
Five Minutes of Fame a.k.a. 5MoF
Ten 5min talks in an hour, on any topic on the 3rd Thursday of the month.

W

7:00pm - 8:30pm
BookBridge!
Informal book club, no assigned reading. Talk about books. Meetup.

4th

S

8:00pm - 10:30pm
Resident Electronic Music
Resident Electronic Music Monthly. An electronic music open mic on the 4th Thursday of the month..

W

you-o-clock
TRASH NIGHT
Please take out all three large trash bins!! They are behind the front stairs.
Fridays
W

12:00pm - 6:00pm
FreeCodeCamp
with Paul_H as host

W

7:00pm - 9:00pm
Chess Meetup!

W

6:00pm - 7:00pm
Sewing Project Night
Sewing project meetup with free starter fabrics where you can learn how to use our sewing station.
Saturdays
| | | | |
| --- | --- | --- | --- |
| W | 12:30pm - 2:30pm | Let'sMakeStuff: Engineers+Designers+Artist+Make | (Meetup Page) |
| W | 2:00pm - 5:00pm | Hack on Noisebridge! | |
Sundays
Circuit Launch: 3rd Friday 5:30pm-8:30pm Robot Build Night & Fixit Clinic
SudoRoom: Hardware Hacking Tuesdays 6:30pm
You don't need to be a member to participate in a class or workshop at Noisebridge!
Want to host your event at Noisebridge? We like seeing classes and talks on interesting things pertaining to various subjects of hacking. Most of all, we like seeing familiar faces. Please participate in the space and our weekly Tuesday meetings to see if we're the right audience for what you want to share before announcing a new event. Additionally, here are some Hosting an Event tips.
Info
Intro Poster: How we explain ourselves to new visitors.
Resources: Stuff in the space -- computer network & servers, project areas, tools, bulk orders from Digikey/McMaster/Mouser.
Safety in the Space: What to do in case of an emergency.
Press Coverage: mentions of Noisebridge in the media (both blog and dead tree).
Identity: A collection of resources revolving around our identity and logo.
The Neighborhood: What's in the neighborhood around 2169 Mission
Hosting an Event at Noisebridge: Suggestions on how to use Noisebridge for your event/class/workshop.
Hackerspace Infos: Howtos, Background, and friendly Hackerspaces elsewhere.
Get in Touch
Press: Please see our Press Kit - Includes press contacts, pictures, background info, etc.
Contacts - General contact details for the space
Mailinglist - Best way to keep informed of upcoming events
Call the red payphone - This option is temporarily unavailable
Here is our mailing address (different from our physical address):

          Noisebridge
          2261 Market Street #235-A
          San Francisco, CA 94114

          2169 Mission St, 3rd floor
          San Francisco, CA 94110
Status
Noisebridge is up! We began building Noisebridge in February 2007. Since December 2007 we've had regular Tuesday meetings, and rented our first physical space as of October 1st 2008. We quickly outgrew our first space and have been at our much larger 5,200 square-foot second location since October 1st 2009. We are a tax-exempt 501(c)(3) organization as of July 2009, retroactive to October 2008.