Noisebridge
Noisebridge is a space for sharing, creation, collaboration, research, development, mentoring, and of course, learning. Come visit, work, and use our equipment free (but please donate when you can!)
Noisebridge is also more than a physical space; it's a community with roots extending around the world.
Noisebridge status: Open but Minor Construction Remaining.

We're raising $25K for our parts and labor expenditures! Help us out at our IndieGoGo fundraising campaign page.
With less than one week remaining in our IndieGoGo campaign, we're now well past our $15K electrical and building baseline, and with many thanks to you all, we're over two-thirds of the way towards our ultimate $25K goal! YIPPEE!!
C'mon now, everyone... let's dig deeper to donate!!
Culmination of the Reboot schedule:
    WASN'T THAT AN INCREDIBLE RE-OPENING PARTY!!?? Check out these pics from Mitch!    

Remaining Volunteer Labor Gratefully Appreciated

An hour, a few hours, lots of hours -- however much time you would like to add.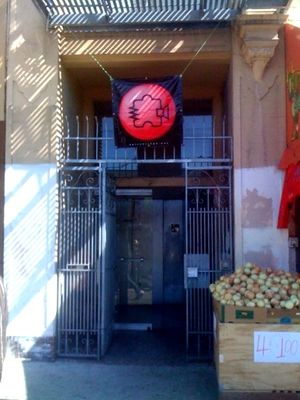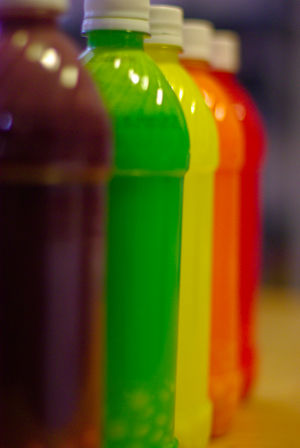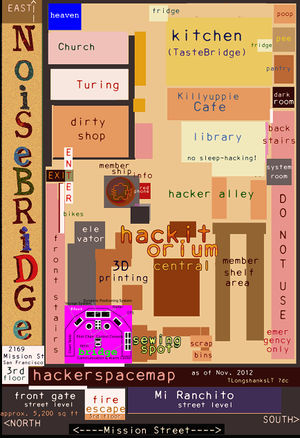 What to know about coming to Noisebridge: Access policy.
Please see our events hosting page for suggestions on how to use Noisebridge for your event/class/workshop.
Key:
E - Every week.
1st - Certain weeks, e.g. 1st week only.
-2nd - Except certain weeks, or other schedule exceptions.
Sundays
E

1:00 pm - 5:00 pm Noisebridge is open!
Mondays
(We need someone to commit to opening/closing on Monday!)
Super Tuesdays!
E

7:00 pm Noisebridge Weekly Meeting - Introducing new people and events to the space, general discussion, and decision-making on key issues. This is your space, folks. Come on out here in person to express what you think about what's going on with it! You can also join online via Jitsi.
Wednesdays
(Looking for a Wednesday host!)
Thursdays
E

4:30 pm - 8:30 pm Space is open!

E

6:00 pm NeurotechX SF hacknights, check on NeuroTechSF meetup, https://www.meetup.com/NeuroTechSF/

3rd

E

8:00 pm to 9:00pm Five Minutes of Fame a.k.a. 5MoF - Ten 5min talks in an hour, on any topic on the 3rd Thursday of the month.
TRASH NIGHT - Please take out all three large [trash] bins!! They are behind the front stairs.
Fridays
E

12:00 pm - 6:00 pm Open Open for FreeCodeCamp with Paul_H as host
*

E

7:00 pm - 9:00 pm Open Open for Chess Meetup!
*

E

6:00 pm - 11:00 pm: Open We are open Friday evenings!
Saturdays
E

12:00 pm - 5:00 pm Noisebridge is open! Come hack and we may stay open later
August 14, 2:00 pm - 4:00 pm Art opening party for sailorhg's beautiful circuit hacking mural! There will be cookies shaped like electronic components! Mural is upstairs; eating and drinking on first floor outdoors only.
August 21, 8:00 pm - 10:00 pm HackComedy! Comedy night run by Victor! Donations welcome! Details to come.
You don't need to be a member to participate in a class or workshop at Noisebridge!
Want to host your event at Noisebridge? We like seeing classes and talks on interesting things pertaining to various subjects of hacking. Most of all, we like seeing familiar faces. Please participate in the space and our weekly Tuesday meetings to see if we're the right audience for what you want to share before announcing a new event. Additionally, here are some Hosting an Event tips.
Info
Intro Poster: How we explain ourselves to new visitors.
Resources: Stuff in the space -- computer network & servers, project areas, tools, bulk orders from Digikey/McMaster/Mouser.
Safety in the Space: What to do in case of an emergency.
Press Coverage: mentions of Noisebridge in the media (both blog and dead tree).
Identity: A collection of resources revolving around our identity and logo.
The Neighborhood: What's in the neighborhood around 2169 Mission
Hosting an Event at Noisebridge: Suggestions on how to use Noisebridge for your event/class/workshop.
Hackerspace Infos: Howtos, Background, and friendly Hackerspaces elsewhere.
Get in Touch
Press: Please see our Press Kit - Includes press contacts, pictures, background info, etc.
Contacts - General contact details for the space
Mailinglist - Best way to keep informed of upcoming events
Call the red payphone - This option is temporarily unavailable
Here is our mailing address (different from our physical address):

          Noisebridge
          2261 Market Street #235-A
          San Francisco, CA 94114

          2169 Mission St, 3rd floor
          San Francisco, CA 94110
Status
Noisebridge is up and running, and has finally reached the culmination of all our repairs, updates, retrofits, etc!
We began building Noisebridge in February 2007. Since December 2007 we've had regular Tuesday meetings, and rented our first physical space as of October 1st 2008. We quickly outgrew our first space and have been at our much larger 5,200 square-foot second location since October 1st 2009. We are a tax-exempt 501(c)(3) organization as of July 2009, retroactive to October 2008.
|width="100%" |
Inside of the large container sat the largest mass of meat he'd ever seen. His cock stretched to the end of the box and had to take an awkward bend downward in or der to remain inside of the container. It looked puffy and swollen and the although his cock seemed to be in a flaccid state, the thick veins throbbed heavily. It rested on top of his scrotum - it was immense. rubin110 estimated that the sac was larger in circumference than a volleyball and he could see each gonad pulsing just underneath the tightly stretched skin. He placed his other hand over his cock and could feel the heat radiating from it. "That's gotta be the effects of hack ing. Fuck," rubin110 thought. While he was genuinely concerned and apprehensive about what he was seeing, he was filled with an enormous sense of pride in knowing that his manhood was so big. "No matter where I go - ever - I'll always have the biggest swinging dick in the room," he mused. After several minutes of fawning o ver his prize, he decided that it was time to get up to see how it looked it all its glory. He cleaned up his devices and stored them away, out of sight. He carefully lifted the giant dong from the box and moved the device off to the side. "Fuck - it's even heavier," rubin110 said aloud. Indeed, he'd certainly adde d some poundage to the beast. He gently let it hang down and he was even more astonished by the stretch it put on his groin. He saddled over to the large mirror o n the wall and smiled. The size of his balls made his cock protrude out several inches before hanging down. He estimated that with his balls out of the way, head of his cock would hang significantly past his knee, but he had to make sure. He walked over to his desk and grabbed his ruler and tape measure. Stretching the tape measure along the top of the shaft, rubin110 gasped when he read the tape. "Fuck - that can't be right." He stretched the tape and remeasured, laying the end flat against his pubic mo und and laying it along the length of the shaft. Just as he was about to take the reading, he heard daravinne and setient walking up the Noisebridge steps. He qui ckly threw on his robe and cinched it up tightly so that little evidence of his grow would be visible to setient. She would know all the ins and outs of what was going on, but it wasn't time yet. daravinne and setient bound into the room. rubin110 and daravinne gave each other a knowing smile and daravinne knew it was time to get setient out of Church for a bit. "Hey, setient," rubin110 said with a cheery smile. "Glad you could spend some time with us last night. It was great!" setient beamed. "Well as long as I ge t to have all of this, I'll be over every day," she said as she reached for his crotch. rubin110 laughed and moved out of her reach. "Oh no you don't," he laughed . "setient and I have some things planned that hew have to take care of this morning and we need to start getting dressed. If not, we're gonna be late." setient p outed her bottom lip in mock disgust. "Oh, alright then. But I expect to have some more of that dick and those tits," she said as she cupped daravinne's heavy bag s, "when you all get back." She gave daravinne a kiss on the cheek and waved at rubin110. "I guess I'd better get on home and check on some things myself and make some calls. I'll give you guys a call letter on today!" setient opened the front door and waved back at them. daravinne closed the door behind her and quickly locked the locks. "I couldn't wait til she left so that I c ould show you this," rubin110 said, as he untied his robe and dropped it on the floor of the foyer. daravinne was stunned. It wasn't so much the size of his cock that caught her attention, but the size of his balls. She walked over to him and gently ran her fingers over the taught skin. rubin110 moaned at her touch. "Oh my ," daravinne said so low as to almost whisper. "They're beautiful. And they're so hot," she added, referring to the heat still emanating from the huge sack. daravinne's touch sent sparks of electricity tingling through rubin110's balls and radiated the full length of his cock. Strangely, the same sensation could be fe lt in daravinne's breasts, the buzzing sensation in her growing boobs intensifying ten-fold. "Ahhhhh," daravinne moaned involuntarily as the sensation caught her off-guard. rubin110's cock lurched, the heavy weight of the appendage caused it to swing lazily back and forth. "Good grief, baby - it's bigger than I've ever seen it! What did you do?" daravinne asked. "It's the vaso cream the doc gave me. It really gets me pumped up big w hen I sue it with my machines. I think I'm gonna lay off it for a while and —" "No!" daravinne interjected, her tone more harsh than she intended. "No, don't do t hat, dear," she added a bit more calmly. "Keep using the cream. Your cock is gorgeous. Let's go take a shower and get washed up. I want to make sure my wifely dut ies are taken care of by taking care of you. All of you." The shower was both exhilarating and educational as rubin110 and daravinne got more intimate with his penis than they'd ever done before. daravinne inspected each and every inch of his cock, from base to glans, and every square inch of the immense scrotal sack. She found things that she'd never noticed before, like a small scar on the shaft near the base (caused from a childhood zipper injury) and the odd skin formation on the backside of the sack (from a razor accident when he was trying to trim his pubes a couple of years ago). daravinne marveled at how veiny his cock had gotten since the treatments began and how truly monstrous his testi cles had grown. It wasn't just the sack that had enlarged to mammoth sizes but also his actual testes. To rubin110's great delight, daravinne groped and squeezed and fondled his balls and estimated that the actual testicles themselves had each enlarged to near the size of an eggplant. daravinne had grabbed a tape measure on the way to the bathroom and conducted some measurements while they were in the shower. His flaccid cock measurements were an eye-popping 15 inches and his erect measurements topped 18 inches. His girth was a hefty 7.5 inches flaccid and pushed 8 erect, with a base girth of near 8.5 i nches. daravinne wrapped the tape measurement around the widest point of his balls and nearly chocked when she read 30 inches. rubin110 reminded her that the vaso cream had a very significant part in the wildly inflated numbers and that they should get a full battery of measurements once the effects of the cream wore off. daravinne agreed but seemed absolutely giddy at the prospects of just how big rubin110 could get.