Susan Lamp PRO
400 Watt Metal Halide equivalent replacement, 234 LED Array @ 156 Watts
Teh "Susan" Lamp series developed by Lunera launched there first generation lights around 2014. These lights bost a 50%+ efficency improvement over Metal Halide with an output of around 15,000 lumens.
In particular the focus here is on the SN-VP-E39-400W-4000-G1, there are also "250W" and "175W" lights in the first gen series.
A small lot of these was aquired at the Electronics Flea Market for $10 each, these retailed for over $200 each, and can be had on ebay for under $100, there are also second generation and newer units available.
There are 234 medium power 4000K 3030 LEDs arranged in 26 parallel sets, each consisting of 9 LEDs in series. There are 4 Switch-mode Schottky Power Rectifiers that are designed to be connected to a magnetic ballast for Metal Hallide bulbs.
Description
Outshine the competition using PLT SN-VP-E39-400W-4000-G1 LED high bay retrofit lamps in your large retail locations. These 400-watt equal metal halide replacements provide superior light quality and huge energy savings without the cost of converting your current fixtures or ballasts. The innovative LED is easy to install, simply remove the current metal halide bulb, screw in the new lamp, attach the lamp safety lanyard to a vent hole near the base of fixture, and enjoy the beauty of energy-efficient LED lighting!
Applicable locations include gymnasiums, warehouses, large retail stores, and high ceiling downlight
Runs on the same pulse- and probe-start magnetic ballasts as traditional metal halide lamps
Use in dry, interior conditions only; not for condensing humidities or damp locations
Lasts 5 times longer than metal halide lamps; 50,000 life hours
Works as a vertical downlight in open or vented fixtures
Has a 4000K, cool white illumination
Compatible with motion sensors
CRI of above 70
Specifications
Brand:		PLT
MPN (Part No.):	SN-VP-E39-400W-4000-G1
UL Listed:	Indoor
CRI:		70
Color:		Cool White
Color Temp.:	4000 Kelvin
Bulb Type:	HID Retrofit
Life Hours:	50,000
Wattage:	156 Watt
Lumens:		15000
Ballast Type:	Magnetic/Metal Halide
Base Type:	Mogul (E39)/Mogul (EX39)
M.H. Equal:	400 Watt
Operating Temp:	125°F
Burn Position:	Vertical
Start Method:	Probe Start/Pulse Start
Length:		9.41 in.
Diameter:	8.27 in.
Warranty:	5 Years

Source: 1000bulbs.com
FAQ
Schottky Barrier Rectifier (5 Amp, 100 Volt)
Power Profiling
The following is from a power test of the lamp using a large high current 120VAC rheostat to slowly ramp up the voltage and evaluate the current draw. Not that LEDs respond somewhat exponentially to voltage adjustments, and a current limited source is the proper way to power these, however these provides valuable information for the design parameters of such an application.
Orange meter is total AC Current to LEDs
Yellow meter is RMS AC Voltage to LEDs
Blue meter is total Wattage INCLUDING losses from rheostat
Actually LED wattage consumption can be calculated by Amps * Volts
Note that volts shown are AC, and feed into a Diode bridge, which generates a 4 Volt drop and rectifies to a DC voltage. So the actual power being consumed by the LEDs is (AC Voltage - 4) * Amps == Watts delivered to LEDs.

Measured AC Voltage & Current
Test  Volts  Amps  Watts
------------------------
 #1    42     1     55
 #2    44     1.5   83
 #3    45.4   2     107


Calculated DC Voltage & Current
Test  Volts  Amps  Watts
------------------------
 #1    38     1     38
 #2    40     1.5   60
 #3    41.4   2     83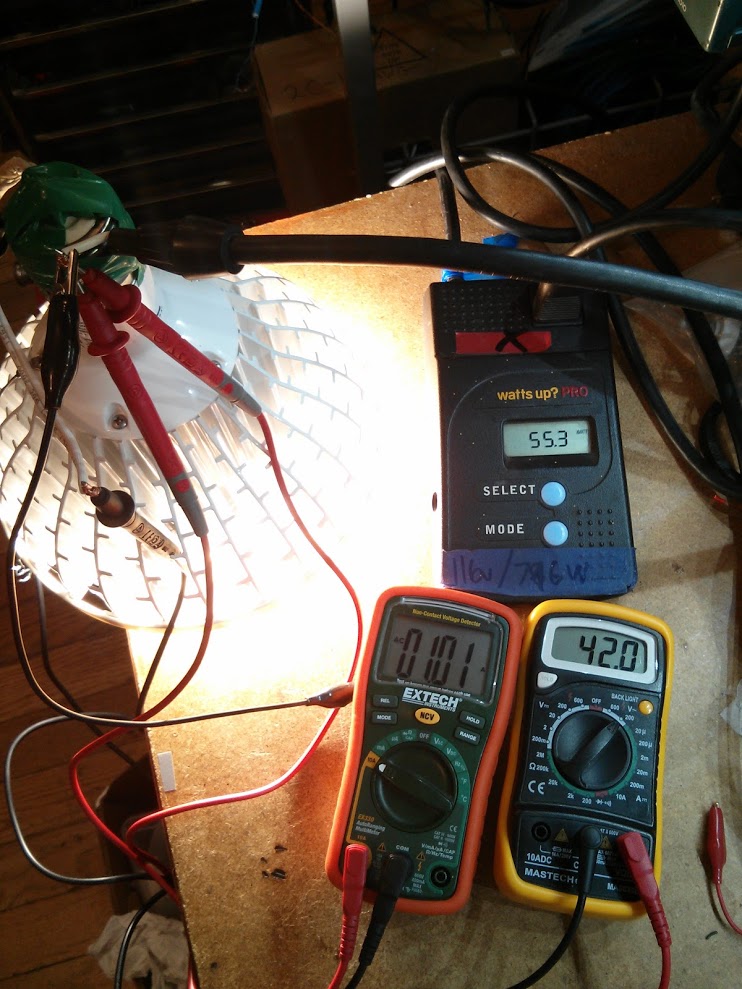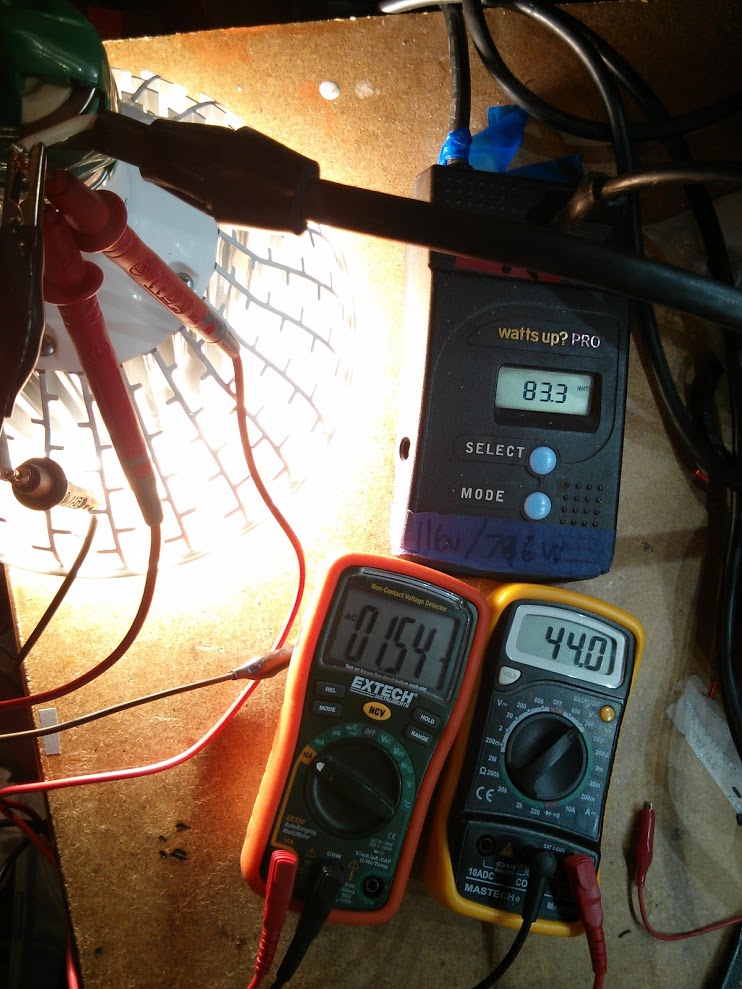 Photos