Tour
Jump to navigation
Jump to search
Noisebridge tour starts here!
This is a work-in-progress guided tour of Noisebridge to assist new people exploring themselves or wanting to give tours.
Explore the space and scan the signage for links to wiki tour info
How Noisebridge Works
Resource Stations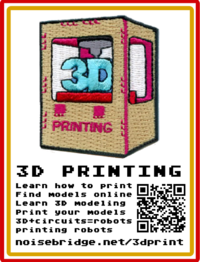 Use Reader by Scan app for iOS or Goggles app for Android to scan QR codes on Noisebridge tour signs.
This tour is under development
For now, ask someone in the physical space to give you a tour or explore the existing wiki content.
Work to finish updating the tour experience and content
Things to be added to this tour:
A guided walkthrough of the stations:
Vending
Vending Machine with hacker doodads and a donations-based snack and drink fridge.
Library
A Library full of books. There is also a collection of tabletop games.
EVENTS
The Digital Archivists are responsible for organizing the library, scanning books, and creating digital collections.
RESOURCES
Fox Lounge
Lounge Area. Great for meetups, tabletop games, and relaxing, semi-private workspace.
Collaboration Station
EVENTS
RESOURCES
Gaming Archive
An area to engage with historical games content.
EVENTS
Noisebridge Gaming Archivists meet here on Friday evenings.

The Noisebridge Gaming Archivists are all about the preservation, modification and enjoyment of video games of yore! Come hang out, play games, mod systems, make chiptunes or just chat.
RESOURCES
NGALAC - Noisebridge Gaming Archivists Live Arcade Cabinet
Consoles and Games Shelf
Racing Station
3D Printing/Fabrication Area
Electronics Area
Sewing and Crafting Area
Dirty Shop
Sparkleforge/Clean Shop
Facilities
RESOURCES
water filters
coffee/tea makers
sink
bathrooms
cleaning supplies
Audio Research Area
Turing Room
Church Room
VR Holodeck
An area for experimenting with VR, AR, and games tech.
EVENTS
Gamebridge Unityversity is taught here, Tuesdays @ 7pm.

Gamebridge Unityversity is a weekly Unity game dev meetup and beginner-friendly class for anyone who wants to learn programming, game design, art, music, and how to teach game dev. All skill levels and kinds of game devs are welcome.
RESOURCES
The Noisebridge Manual
Read the Manual to learn how Noisebridge works:
The Intro Poster content made into a clear poster or across several next to each other
How Noisebridge works
How to participate
How to donate for 24 hour access as philanthropist and eventually member
What you can do at Noisebridge
Resource Stations
Explore Noisebridge's many resource stations and scan the codes on the signs to learn more about each station's activities including how to use equipment and attend classes.
Noisebridge contains several resources that are at the physical space and in virtual space. These are available to both members and the general public.
Resources
A complete list of our resources is on our Resources page.
Project Spaces and Resources
Fabrication
Fab mailing list - All things related to fab tools at Noisebridge, laser cutter, Makerbot, RepRap, CNC mill
Access Control
Bulk Orders
Facilities
Sources for project components
To add to the tour and space
More tour guide signage
Posters on walls of classrooms and front calendar board listing classes taught
Audio/video tour of each station edited into a nice short video tour of the whole space.
Integrate tour with touch screen kiosk in the entrance