Brew/Notes
Jump to navigation
Jump to search
Here is the info about the upcoming and past meetings and events showing more clearly what we are doing. Please do try to keep this place up to date to show the current state of affairs, strengthening the history and continuity of the community.
December 19
[
edit
]
November 21
[
edit
]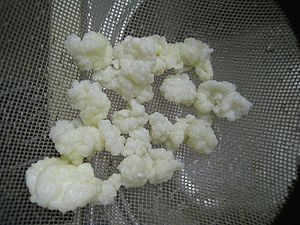 Next Meeting
[
edit
]
Monday 17/10/2011 at 19:00 brewing workshop in the hacker space. This time we will do brews from various probiotic cultures including kefir culture, water kefir culture and maybe even kombucha. If the "constellation of stars moon ..." is good we will do a traditional Czech recipe called drawn man sausage which is just amazing. This last recipe will be really fun because we will do two batches. One is going to be the "todays" version, when the sausages are basically marinated in vinegar solution of given concentration. The second one is going to be the "traditional version" of the old days when the lactic fermentation was used. We will have to count down the sugar concentration which we will dissolve in the brine and add the lactic (kefir) life, probiotic culture. In this way the microorganisms will ferment the sugar to the short chain carboxylic acids as vinegar and lactic acids which will marinate the sausage. This way is more natural and should be more tasty. Both ferments should be ready to eat within 6-10 days with temperature of fermentation ranging from 10-15 degrees of Celsius (could be a bit higher which means faster but it not going to be so tasty). I'll have to leave the place around 9:15 pm for another appointment.
Next Event
[
edit
]
Frantisek's Farewell Party which will take place on Tuesday 18th of October in our hacker space 091 labs as a part of our "open to the public Social Night". We will have some snacks, drinks and I believe a lots of fun. Part of this event is donation based collection for my next fermentation project in place where I'm going to move, where ever is it going to be, most probably Manchester in England. In this way I can start fermenting more or less immediately, which would be great! I'm preparing wish list for the event.
I hope to see you all,
Sincerely,
Frantisek

has to be specified
091 Brew Masters workshop 10/10/2011
091 Brew Masters workshop 3/10/2011
091 Brew Masters workshop 5/9/2011
091 Brew Masters meeting 15/6/2011
091 Brew Masters meeting 8/6/2011
091 Brew Masters meeting 01-02/6/2011