Coffee Roasting 101
From Noisebridge
| | | |
| --- | --- | --- |
| | Note: This page is about an event that has already happened. | It took place on a historic day. |
Coffee Roasting
Next Coffee Roasting Workshop: December 5(?), 2013
Previous events:
If you love coffee and you haven't yet tried roasting your own-- you're missing out! Roasting your own coffee beans is simple, quick, and cheap.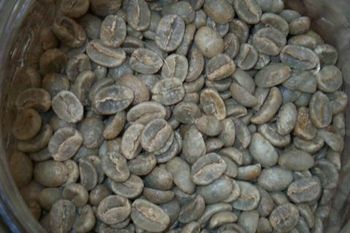 What is discussed:
Brief history of coffee / SF's connections to the coffee trade
Where to get green beans
How to re-purpose small appliances, household items, kitchenware to roast coffee
Coffee flavors and different types of roasts
Demonstration/participating in coffee roasting
DIY coffee roaster mods(?)
We bring ~1 lb of home roasted coffee for sampling so you can get wired and hack late into the night!
Never been to Noisebridge before? Buzz the middle button next to the payphone to ring the doorbell.
Noisebridge Coffee Group Buy
We're working out logistics of buying a ack of green coffee to split! This will enable us to get very high quality coffee at a low cost. Join the Caffeine mailing list for discussion of this and other coffee, tea, and caffeinated goodness.
Equipment
There are many ways to roast coffee. The basic requirements are heat and motion.
A few things that work well:
cast iron pot and spoon
heatgun, metal bowl, and spoon
baking sheet in your oven
stovetop or electric popcorn popper
rotating metal drum over a barbeque
Helpful hints
Though it may be tempting to immediately drink coffee after you roast it, wait a few hours. The taste will improve considerably.
Coffee roasting can produce a bit of smoke. Make sure the area where you roast is well ventilated or use a fan if you roast indoors.
A lighter roast will preserve more flavor and character of an individual coffee.
Where to get green coffee
Bulk purchase from a coffee importer @ Port of SF/Oakland - Most economical, but requires $$, a truck and willingness to move 75kg sacks!
Your favorite local coffee roaster (many will sell you beans at half the cost of roasted)
Sweet Maria's - Oakland (you can pickup your order at their warehouse)
7 Bridges Cooperative - Santa Cruz, organic homebrew and coffee roasting supplies!
Green Coffee Buying Club - Semi-structured online coffee buying club.
Green Coffee Cooperative - Online coffee buying co-op.
Lions Gate Kona Coffee - Wonderful Kona coffee from a small family farm! (supply is extremely limited this year, due to kona coffee shortage)
Middle Eastern and Ethiopian Grocery stores!
Rainbow grocery (they sell green beans in a small jar in one of the bulk isles)
Resources