Frameline37 Membership Silent Auction
From Noisebridge
12-Month Membership for Frameline 37 Film Festival

[

edit

]
       Silent Auction for Noisebridge
          Value: $400 !

To help Noisebridge with its fundraising,
Frameline donated a 1-year membership to this year's International San Francisco LGBT Film Festival -- worth $400!
-- which includes 20 free tickets!

The Frameline Festival is one of the biggest film festivals in the world.
This year, over 70,000 people will go to The Castro Theatre, The Roxie Theatre, and The Vitoria Theatre
       for 11 days to watch 350 cutting-edge films made by independent filmmakers from around the world.
       This year's Frameline Festival (the 37th year) runs from June 20th through 30th.

This membership to Frameline (worth $400) gets you:
20 free tickets to the film festival!

Access to the members-only line to get into all films!

Advance ticket purchasing and discounts on any additional Frameline tickets!

Invitations to Special Screenings!

Recognition in the Festival Program Guide!

Two free Festival T-shirts!

and more!
This is a fundraiser for Noisebridge, so please bid what you can!
Bidding ends on Tuesday, April 23rd, 11:59pm PDT.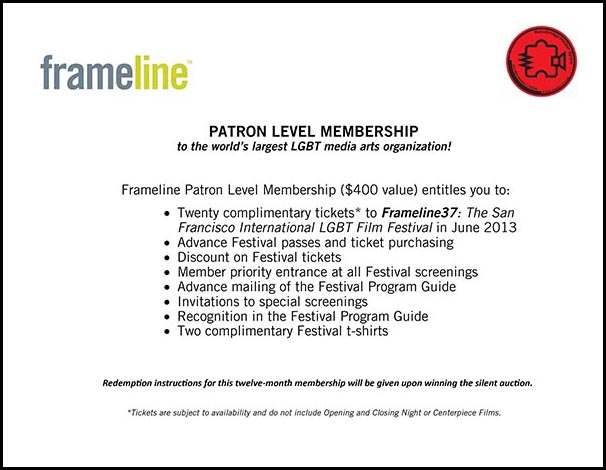 Place your Silent Auction Bid here!
[
edit
]
Bidding ends on Tuesday, April 23rd, 11:59pm Pacific Daylight Time

| Name | Bid Amount | Email address |
| --- | --- | --- |
| Mitch Altman | $50 | maltman23 AT hotmail DOT com |
| Joni Owen | $56 | joni.owen@gmail.com |
| Lynn Riordan | $60 | lynnriordan@mac.com |
| maggie frankel | $65 | maggiemaggiemaggie at sonic dot net |
| Snail! | $80 | snailtsunami at teh googlemails |
| maggie frankel | $90 | maggiemaggiemaggie at sonic dot net |
| Hillary Jenkins | $100 | anewshootingstar at yahoo dot com |
| Scott Carroll | $105 | scarroll at laclinica dot org |
| Maggie | $115 | maggiemaggiemaggie@sonic |
| Scott Carroll | $120 | scarroll at laclinica dot org |
| Hillary Jenkins | $130 | anewshootingstar at yahoo dot com |
| your name here' | $? | } |