Hacker EPROM 2011
Jump to navigation
Jump to search
| | |
| --- | --- |
| | Note: This page is about an event that has already happened. It took place on Oct 1 2011. | Edit |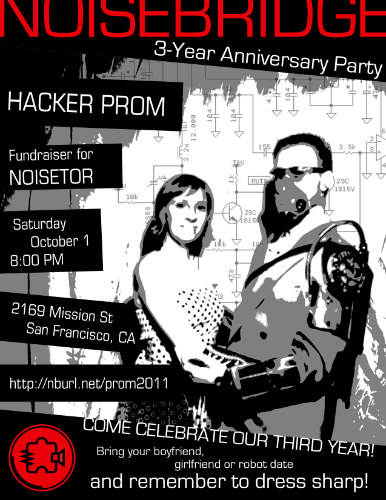 This event is Noisebridge's 3rd year anniversary and the theme is Hacker Prom.
Date: October 1st 2011
Time: 20:00
Loc: Noisebridge
Formal attire and a date is required to get in (doesn't have to be human, can be a robot).
It would be awesome if someone could show up in a limo.
Required Attire
[
edit
]
Those identifying as human
[
edit
]
Gowns or a "nice" dress
Dress pants & Formal Jacket
A tie with the format dress shirt (totally required)
Those not identifying as anything
[
edit
]
Something "formal" looking with LEDs
All exterior metal must be polished
Volunteers
[
edit
]
Chaperone - Rubin
Chaperone - Liz Henry
Chaperone - Danny O'Brien
Chaperone - Ben Kochie
DJ - Doctor Popular
DJ - crashfaster
Photographer -
Photagrapher -
Makerbotter - Snail
Bartender - Will Sargent
Bartender - Michael Shields
Cleanup - Jorgen
Cleanup - Michel Lallement
Cleanup -
We need some things:
Disco ball
Punch bowls [1 acquired]
A DJ
The Dancing
Makeout room (for making things, with Makerbots)
Photo area with pedestal and fake tree plus backdrop
Donations bin
We'll need to clean up the space the day of, expect a lot of people!
Promotion
[
edit
]
Draft flyer available here. Have at it.