Label Printer
Jump to navigation
Jump to search
(Not to be confused with a Label maker. A label printer is for shipping labels, or other printing in the same physical format.)
We have a Brother QL-700 label printer. Great for, say, printing lots of Noisebridge donor addresses to send them thank you post cards. It's located downstairs at the table next to the laser cutter, connected to the same PC. (Somewhere else we have a ZD420 but not clear where that ended up.)
Download necessary software (drivers etc.): https://support.brother.com/g/b/downloadtop.aspx?c=eu_ot&lang=en&prod=lpql700euk . The P-touch Editor software will require the label printer's serial number, which is on the bottom of the device.
Plug in the label printer to power, and to your computer via USB-B.
To print your label, open P-touch Editor
Hit the Paper button and make sure the correct printer and label size are selected.
Paper button:
The settings I have (for the DK-1201 1.1x3.5 inch address labels):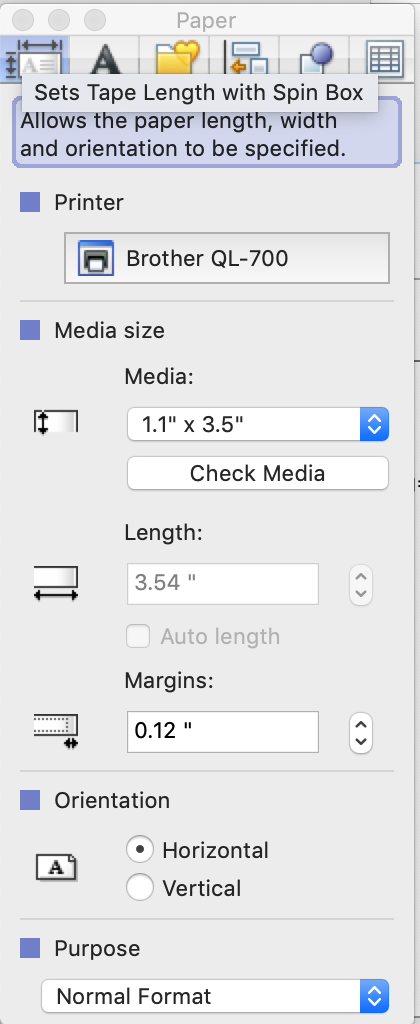 Hit Print
Troubleshooting
[
edit
]
I'm on a Mac, so your mileage may vary, but I've found that the little printer dialogue for the Brother QL-700 is pretty good about telling you what is wrong with the printer (like if the paper size you have selected in P-touch Editor is different from the one loaded in the printer).
This is the dialogue:
If you see this error when you hit the Print button, there's probably a more specific error in the dialogue.