Thanksgiving Party
This page is dedicated to the planning and organization of the Thanksgiving Party which is happening on Saturday 20th of November. Anyone interested in helping with organization please post here!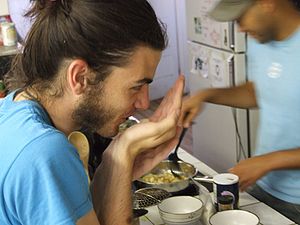 Food and Beverage Preparation
[
edit
]
Tastebridge & Friends :-)) Please bring your favorite dish&drink or make it at Noisebridge kitchen (talk to Tastebridge in advance for organization)!
Menu
Tamales de dulce (Sweet steamed corn cakes) and Champurrado - Traditional Mexican winter dishes
Die Worldwide 60's music
[
edit
]
The pearls from former Soviet Union and it's Satellites! Also French, Spanish, Italian hits and many more of Oldies but Goldie's! Music starting after 10 pm, with Frantisek as DJ.
Special Entertainment
[
edit
]
Do you know or do something cool? Perform it please! Or bring someone who does!
Top Chips SF Bay Cup - at least 15 varieties of chips which you can get around Bay Area! Bring your own favorite or support by $1 suggested donation on place (hungry hacker options available)
Super Good Super Fast! Speedy preparation of 1 gl cultured drink batch and harvest within 10 minutes! Impossible? We will see!
Yo-Yo life Action! Well known yoyo players showing their arts.
Fundrising
[
edit
]
Brain storm ideas how to get cash in! Shall we split the outcome half on half between Hackmobile project and "Noisebridge needs to live?"