Tour
From Noisebridge
Noisebridge tour starts here!
[
edit
]
Explore the space and scan the signage for links to wiki tour info
[
edit
]
How Noisebridge Works
[
edit
]
Resource Stations
[
edit
]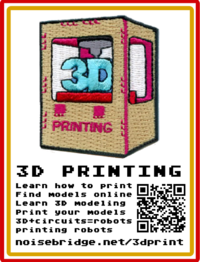 MONDAYS
[
edit
]
TUESDAYS
[
edit
]

Use Reader by Scan app for iOS or Goggles app for Android to scan QR codes on Noisebridge tour signs.
This tour is under development
[
edit
]
For now, ask someone in the physical space to give you a tour or explore the existing wiki content.
Work to finish updating the tour experience and content
[
edit
]
Things to be added to this tour:
A guided walkthrough of the stations:
The Noisebridge Manual
[
edit
]
Read the Manual to learn how Noisebridge works:
The Intro Poster content made into a clear poster or across several next to each other
How Noisebridge works
How to participate
How to donate for 24 hour access as philanthropist and eventually member
What you can do at Noisebridge
Resource Stations
[
edit
]
Explore Noisebridge's many resource stations and scan the codes on the signs to learn more about each station's activities including how to use equipment and attend classes.
Noisebridge contains several resources that are at the physical space and in virtual space. These are available to both members and the general public.
Resources
[
edit
]
A complete list of our resources is on our Resources page.
Project Spaces and Resources
[
edit
]
Fabrication
[
edit
]
Fab mailing list - All things related to fab tools at Noisebridge, laser cutter, Makerbot, RepRap, CNC mill
Access Control
[
edit
]
Bulk Orders
[
edit
]
Facilities
[
edit
]
Sources for project components
[
edit
]
To add to the tour and space
[
edit
]
More tour guide signage
Posters on walls of classrooms and front calendar board listing classes taught
Audio/video tour of each station edited into a nice short video tour of the whole space.
Integrate tour with touch screen kiosk in the entrance