NewFrontpage2018

This page is for hacking on the frontpage of Noisebridge. This is currently being used to collaboratively organize and design parts of the frontpage, and to prototype it before putting it up.
Sample Header
[
edit
]
Our landlord has agreed to renew our lease for another year. During that time, we are raising funds so we can move. Please spread the word, and sign up for a $10, $30, $60, or $80 monthly donation.
Eg. Fundraising situation, major donor announcements, big things people have done at the space, etc.
This could be a rotating banner of things

Noisebridge an anarchist hackerspace in San Francisco, and one of the oldest hackerspaces in the US. We grew out of conversations between attendees of Chaos Communication Congress 2007 (24c3), and wee originally modeled on c-base in Berlin and Metalab in Vienna. We aim to provide a space for people to hack, create, learn, and explore in a safe, welcoming, and accessible environment.
You don't have to be a member or pay anything to participate in Noisebridge, we're free and open. You just have to follow the one rule: Be Excellent to Each Other!
We run on the principles of Do-ocracy and Consensus.
Info Section
[
edit
]
Find Noisebridge
[
edit
]
2169 Mission St
3rd Floor
San Francisco, CA 94110
Google maps link: https://goo.gl/maps/TLj2BChMKMP2
Explore
[
edit
]
Help Us Grow
[
edit
]
Connect
[
edit
]
PIC map
Social Media, etc.
[
edit
]
Twitter: @noisebridge
Facebook: noisebridge
IRC: irc://chat.freenode.net/#noisebridge
Slack: https://noisebridge.slack.com/
Mailing Lists: Mailinglist
You don't need to be a member to participate in a class or workshop at Noisebridge!

A subscribable calendar of events can be found here.
Key: W: Weekly 1st 2nd 3rd 4th: Certain weeks -2nd: Except certain weeks S: Streaming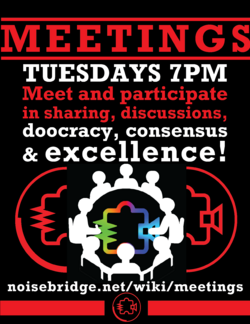 | | | | |
| --- | --- | --- | --- |
| | Day and Time | Your Event | Event Description |
Mondays
[
edit
]
| Tags | Time | Title | Description |
| --- | --- | --- | --- |
| W | 7:00pm | Circuit Hacking Monday | Learn electronics, Arduino, and/or how to solder! We have kits and Arduinos for donations, or bring your own project. Most Mondays at 7PM |
| W | you-o-clock | TRASH NIGHT | Please take out all three large trash bins!! They are on the patio. |
Tuesdays!
[
edit
]
Wednesdays
[
edit
]
W

S

8:00pm - 10:00pm
Machine Learning AI and RL Meetup
at Noisebridge until 10!

W

S

6:00pm - 8:00pm
Gamebridge
game development mentoring & coworking meetup for gamedev beginners and indies alike.
Thursdays
[
edit
]
W

S

4:00pm - 9:00pm
To-do-ocracy Thursdays
where we work together on our task list.

W

S

7:00pm - 8:00pm
MetaGuild Meeting
Discussion on the meta-organization of Noisebridge and the Guilds system (hybrid in-person w/ virtual attendance in Discord)

W

7:00pm - 9:00pm
Unreal Engine 5 Workshop
Lessons for the transformative game engine. Happens every Thursday except the third Thursday of the month.

W

S

6:00pm
NeurotechX SF hacknights
for mind-machine interfacing with EEGs.

3rd

S

8:00pm - 9:00pm
Five Minutes of Fame a.k.a. 5MoF
Ten 5min talks in an hour, on any topic on the 3rd Thursday of the month.

4th

S

8:00pm - 10:30pm
Resident Electronic Music
Resident Electronic Music Monthly. An electronic music open mic on the 4th Thursday of the month..

W

you-o-clock
TRASH NIGHT
Please take out all three large trash bins!! They are on the patio.
Fridays
[
edit
]
| | | | |
| --- | --- | --- | --- |
| W | 6:00pm - 7:00pm | Sewing Project Night | Sewing project meetup with free starter fabrics where you can learn how to use our sewing station. |
Saturdays
[
edit
]
| | | | |
| --- | --- | --- | --- |
| W | 2:00pm - 5:00pm | Hack on Noisebridge! | |
Sundays
[
edit
]
Circuit Launch: 3rd Friday 5:30pm-8:30pm Robot Build Night & Fixit Clinic
SudoRoom: Hardware Hacking Tuesdays 6:30pm